coworking spaces – Are you thinking of establishing a coworking space business?

If you answered "Yes," then this guide is for you. 
Coworking spaces can provide the amenities you would find in a regular office without companies, startups, and teams shouldering the expenses of maintaining their own workspace.

However, running a coworking space business isn't easy.

You'll need to first learn about the crucial aspects to help you make a coworking space profitable long-term.  
This post covers what you need to know about coworking spaces, the benefits customers can enjoy when working in one, and how these can be good options for your target market. 
Coworking Space: What is it?
Coworking is when people come together in a neutral space to work independently on separate projects or the same project but in multiple groups. 
A coworking space is distinct from a typical office since the people within a coworking environment don't necessarily have to work for the same company. 
While most coworking spaces offer amenities similar to those in standard office setups, coworking spaces offer more flexibility since clients won't need to enter into a long-term lease.
Most coworking spaces offer the basics, such as tables and chairs, printers, WiFi, and a conference or meeting room.  
Other coworking facilities targeted at startup teams and companies can also provide relevant resources. 
This can include digital assets, such as access to popular product management tools and advisors and coaches when available. 
The Biggest Benefits of using Coworking Spaces
Coworking spaces offer tons of benefits, from cost efficiency to increased productivity.  Some of the common advantages of using coworking spaces include the following. 
Networking Opportunities
Working in a space where other startups and freelancers also work provides many opportunities for your customers to grow their networks and even build communities. 
For instance, you can host networking events that allow startups, freelancers, etc., to learn from other leaders and teams about industry-specific or general topics and trends. 
This can include startup marketing strategies and more granular topics, such as what to do when your business gets shadowbanned from top marketing platforms. 
Hosting networking events in your coworking space also provides a place for your customers to discuss business opportunities and future partnerships and even find potential clients. 
Better Productivity
It's not always easy to increase productivity when working in a traditional office. 
Even using the best tools, such as a top-tier Human Resource (HR) software to manage challenging tasks, such as payroll processing, can't guarantee optimum productivity.   
Coworking spaces are generally designed to motivate people to work. These provide the kind of environment and ambiance that foster creativity that typical office setups might not offer. 
For instance, some freelancers can focus better and work more productively when surrounded by hard-working, creative people.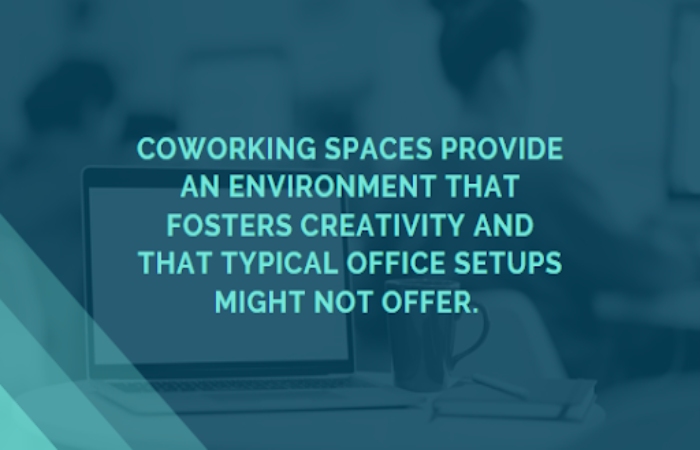 Additionally, a coworking space offers a good alternative to working from home.

It allows freelancers and other remote workers to set boundaries between personal and working spaces. It also removes the common distractions of domestic life, letting workers focus on their jobs.  
Increased Flexibility
A coworking space allows startups and small companies to get more flexible and cost-efficient deals instead of investing in a permanent facility or long-term lease. 
It can also lower a bootstrapped or startup company's operating costs since they won't need to buy furniture, pay utility bills, and manage maintenance.

Plus, coworking spaces can be better options for project teams since they can serve as a temporary office until the project's end.
Who are Coworking Spaces for?
While anyone or any team can use a coworking space, the most common customers are the following.
Small Businesses 
Small companies that don't want the burdens and overhead expenses of a traditional office can turn to coworking spaces as a more cost-efficient alternative. 
Using coworking spaces involves little to no setup costs. 
This can give any company, whether they provide digital marketing for small businesses or consulting services, the typical office experience.

Small companies can access necessary amenities they would find in a traditional office setup but on a much smaller budget.   
Remote Workers and Freelancers
Constantly working from home can be isolating and even cause people to fall into a (work) rut.

Coworking spaces provide a pseudo-office environment and offer a change of pace for freelancers and remote employees.
A coworking space can also give freelance and remote workers a more engaging work environment since they can easily meet and connect with fellow workers in the industry.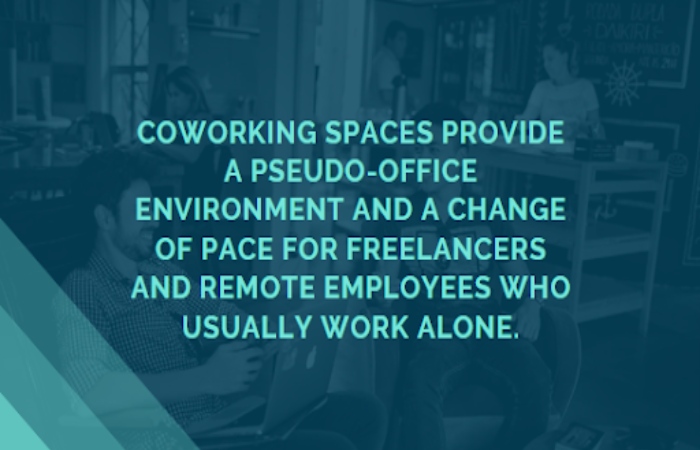 Essentially, freelancers and remote workers can get the office experience they need from a coworking space. 
This can help them focus on work better and reduce the feelings of isolation that come with a work-from-home setup. 
Non-Profit Organizations
Most non-profit companies are always on the go. This makes a coworking space an excellent place for nonprofits to work since it can accommodate flexible work schedules and needs. 
Enterprises
Besides small businesses and freelancers, global enterprises also work with coworking spaces for their workspace needs.

Enterprises can use coworking spaces to:
House project teams temporarily or until the end of the project

Provide a custom workspace for employees in other parts of the world

Conduct summits or conferences (yes,

summits are different from conferences

) and meetings outside the office   
Additionally, coworking spaces can be a good fit for workers and teams if:
They are not bothered by background noise

. Some coworking spaces can be quiet and peaceful, and others can be bustling and lively.  
However, coworking spaces generally have background noise since some workers can hold meetings or take phone calls. 
Teams and workers who can work efficiently even with constant background noise can find coworking spaces suitable for them. 
They are not easily distracted

. A coworking space usually involves a lot of activity that can be distracting to workers. 
People who are used to background activities and noise but still focus on work can benefit from a coworking space. 
They don't mind the lack of privacy

. A coworking space can offer limited privacy since it is generally open to anyone who needs the workspace. 
Workers who don't mind minimal privacy and work with highly confidential materials can enjoy using a coworking space. 
They are comfortable with a lack of control

. Coworking spaces are essentially "public" places. This gives workers little control over the room temperature, lighting, furniture placement, etc. 
That said, coworking spaces are best for workers and teams who don't mind not adjusting the workspace and still focus on their tasks. 
Are you Ready to Launch your Coworking Space?
Like any business, establishing a coworking space takes hard work, research, money, and the right approach.

Know everything you can about the coworking spaces and the market before diving into establishing your coworking space business.

Ask experts, run surveys, and learn the best ways to operate a profitable and successful coworking space. 
Helpful Sources:
Feefo releases its annual CX Rends report
Best investment to generate passive income