Every entrepreneur has a dream to build a successful empire that flourishes with profit. Do you think running a business is that simple? From discovering a profitable niche, defining the target audience, managing finances, to handling marketing – business owners hold the bag for everything. When selling products or providing services, nothing is more crucial than getting the word out. You might introduce an incredible market offering, but it won't give results until people know about it.
With the right marketing strategies, you can fuel business growth and make substantial profits. Previously, low marketing budgets kept small businesses out of the game, but things are changing. The emergence of digital marketing tools is catering to companies with low-budget plans while giving them access to new markets. Likewise, 'search engine marketing' can enhance your visibility in the online market.
Alongside chasing the trends, you have to come up with something unique and innovative to attract customers. Are you looking for ideas? Here we are unfolding six ways to carry out marketing activities effectively.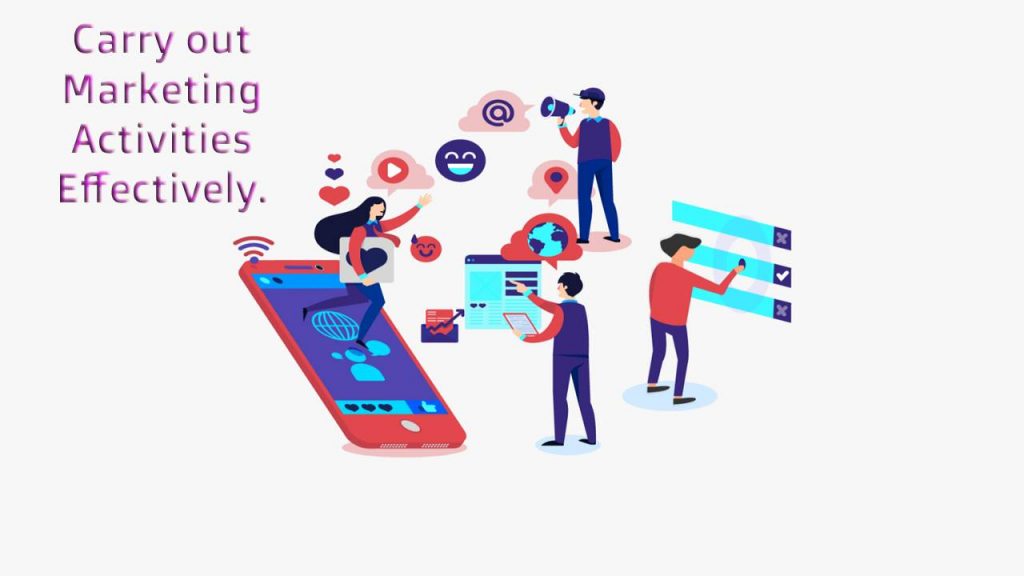 1.   Initiate Events and Tradeshows
Even in the 21st century, networking remains the ultimate marketing tool. It might not be a customer-centric marketing practice, but it can help your company establish a name. You can either participate in a tradeshow or host one yourself. Invite all multi-national organizations, your competitors, and other key players in the market. It will give insight into the latest products and services that others are thinking of launching in the future.
Moreover, consider hosting social events in the company to draw the media's attention. It could be an 'Awards Night' to applaud employees for their services. Create categories like 'creative brains' or 'star employees' and commemorate them with glass awards to celebrate their efforts. Otherwise, you can host an annual dinner for all the employees and investors. You can use these events to make significant announcements or reveal the product's first look, helping you create some uproar in the industry.
2.   Set Up Referral Programs
With internet flooding from paid advertisements, the audience is refusing to fall into this trap. They are looking for genuine reviews and customer feedbacks before making a purchase. Suppose you notice a similar trend, set up a referral program as a part of your marketing strategy. Do you know how it works? It is a systematic approach to incentivize people to share their experiences with others.
If you have a happy customer, you can ask them to share a review in a group or amongst their friends. If they agree, you can thank them with a complimentary gift, membership card, or free product. All these feedbacks reflect credibility, growing customer base instantly. Besides, this is the perfect strategy for customer retention, helping you develop a connection with old customers.
3.   Explore Tech-Savvy Tools
Previously, marketing activities were nothing but blind guesses, while thinking customers might want this, they might like that, etc. Nowadays, decisions rely on facts, logic, and reasoning. Marketers utilize digital tools as they have to manage plenty of things. By investing in the right digital tools, you save a lot of time and efficiently handle all campaigns.
Sprout Social: Social media presence has become inevitable, but updating every platform timely is quite challenging. Sprout social is a management and engagement tool, allowing you to keep up with customers.
MailChimp: Although new marketing practices are emerging, email marketing is still doing wonders. You can readily manage and schedule your emails using MailChimp. Alongside this, it provides immediate results – the number of people who clicked on the link, opened the email, etc.
Rocket Fuel: It is essential to measure the progress and results of advertising campaigns. Rocket fuel uses anonymous user data to forecast the results of your campaign. With these estimated results, you can judge whether spending on advertisement is worthwhile.
4.   Leverage Micro-Influencers
We have always seen celebrities gracing television advertisements and billboards to promote brands. As we move towards the digital age, coughing money on celebs for ads doesn't seem the right choice. So, why not leverage micro-influencers? These are digital celebrities with millions of online followers. People admire their taste, fashion, and believe in their word of mouth. Thus, consider sending a PR package to some influencers.
Collect Influencer database to search for micro-influencers, if you have a food chain, shortlist food bloggers as it will help you reach out to the correct target audience. You can either invite them over for food tasting or send a package to their place. In return, influencers expose your brand to their followers while rating and reviewing your services. Most companies enjoy an 89% return on investment by leveraging influencer marketing if you see the stats.
5.   Focus on Co-Branding & Partnerships
In the early 2000s, the whole world was talking about the collaboration between Nike and Apple. Do you remember how they brought the concept of fitness and music together? Such remarkable co-branding techniques can help the business reach heights in minutes. Therefore, consider collaborating with a partner. If you have an apparel brand, join hands with a celeb to introduce their clothing range under your brand name.
You will reap the benefit of their goodwill and fan following, while they will step into the business world, making it a win-win situation. If you don't want a temporary set up, sign up for marketing partnerships. Look beyond the dynamics of your industry and pick a reliable partner. For instance, if you are selling snacks, join hands with a beverage company to introduce some bundle offers.
6.   Conduct Survey, Listen, & Learn
Marketing activities are incomplete without market research, which is essential for determining your marketing strategies' success. An understanding of the audience's taste and preference can help you predict trends accurately. Thus, deploy some resources for market research. You can conduct online surveys to see what customers have to say about your idea.
Analyze the survey responses to understand their buying behaviors. If some answers are vague, consider opting for a follow up to learn potential pitfalls or mistakes you are making. Remember, results would only be credible when surveys are reaching out to the relevant target audience.
Final Thoughts,
These days, every business wants to advertise and remind audiences of their existence. As the competition is intensifying, you have to work your way through this. Instead of solely focusing on social media or SEO, start thinking outside the box. Focus on impactful marketing activities that can create a furor in the markets to enjoy profitable returns.