In the world of online marketing, there seems to be an endless supply of tools, solutions, features and marketing methods to improve, grow and optimize the site performance. Even with all of these solutions and tools in place, it can be quite tiresome and overwhelming to know which work best and which are working to improve your site and it's traffic.
From content creation and site growth aspect, SEO is still one of the most reliable and understandable methods for improving site traffic. However, don't get me wrong… ranking at the top of Google for any generic and target keywords is no easy task. But the good news is that there are plenty of recommended tools and solutions out there to help along the way.
With this in mind, now we are going to be taking a look at Ubersuggest and it's powerful free SEO keyword tracking tools and features.
Why Keyword Research Matters More Today than Ever
In a time when social media and mobile devices are now being used more than ever before, is SEO still a major factor for site owners and brands of all sizes? In short, most definitely!
A perfect case of this can be seen when someone goes to Google and types something in. No matter what they are searching for, they are genuinely interested in it and likely ready to take action if they are in buying more.
For this reason and more, sites that rank at the top of Google for priority keywords and search phrases continue to see new traffic, leads and sales on a daily basis, while also seeing higher conversions than that of social media and paid advertising.
Even with altogether of the competition out there and more than a billion different sites actively creating new content, there is still plenty of room for improvement when trying to rank in Google and generating free traffic to your website.
And one of the best ways to make this happen is through the use of reliable keyword research and SEO tool like Ubersuggest.

Introduction to Ubersuggest SEO Tool
Ubersuggest is an all-in-one SEO tool that is catered to the needs of site owners, bloggers and brands of all sizes. The platform was created by Neil Patel as a side project to help site owners access the same tools and features offered by premium SEO tools and platforms, but without the same high associated costs.
Long story short, this side project quickly turned into much more and Ubersuggest is now one of the most talked about SEO tools and platforms in the online marketing space today.
What makes Ubersuggest different from the many other tools available, is that it comes with a much lower price point than the competition, and even offers limited access for free. Unlike other platforms that require a user to sign up for a free trial and to enter their credit card information, Ubersuggest allows site visitors the ability to start searching and using the site for free. The option is there to create a free account, so users can track the performance of their site and keep returning for the latest algorithm and ranking movements.
Ubersuggest Features and Tools
When looking at any of the most popular SEO tools on the market today, you are going to find that they offer a lot more than just keyword research tools. This is also what usually boosts up their initial pricing and allows for them to charge anywhere from $99 to $499+ per month.
Even with the freemium mentality in mind for Ubersuggest, they've been able to compile quite the powerful list of resources, tools and features on the site. Here are some of our favorites.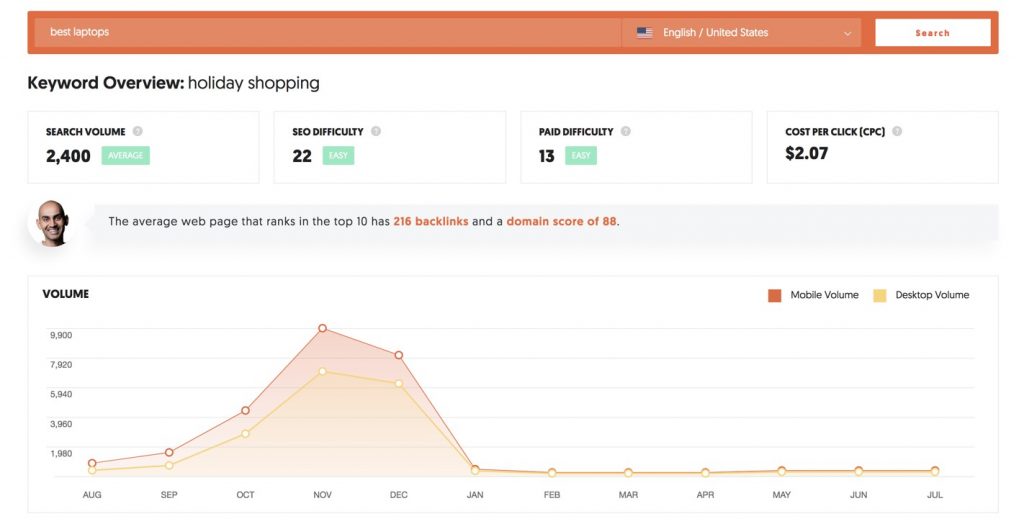 Keyword Research Tool –
The keyword and domain research tools are the most obvious and simple tools to use on the website. You have to enter your preferred keywords or site URLs, and then Ubersuggest will spit out a data filled report containing search volume, competing domains and keywords, top ranking pages, traffic charts and more.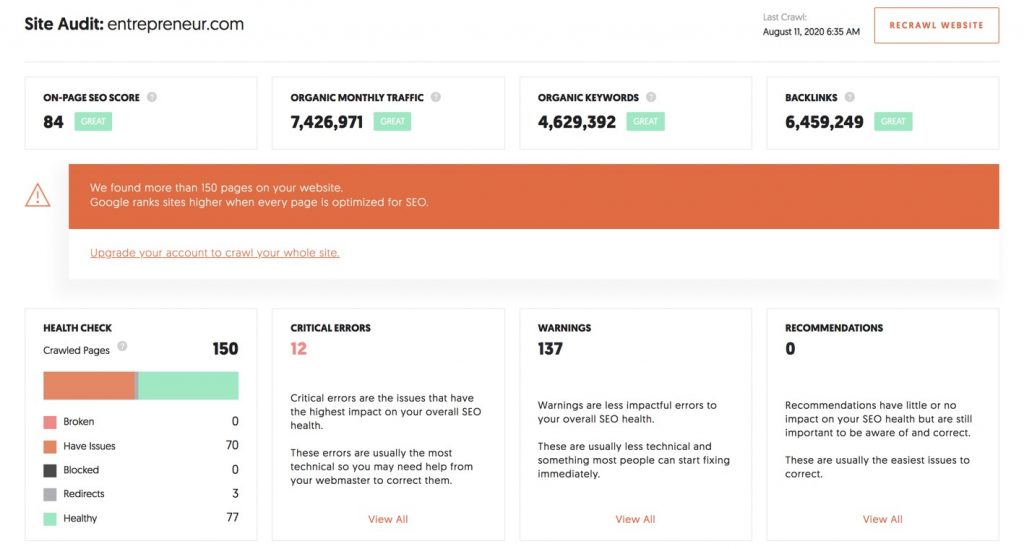 Site Audit Tool –
For site owners that are looking to improve the user experience and indexing optimization of their site, the site audit tool will definitely come in handy. For this, you have to do is click over to the Site Audit tool in the dashboard area, and then submit your site URL. Ubersuggest will then provide you with a quick report on any errors and recommendations for your site. After making any changes, run the same report to see which ones have been fixed or remaining to be fixed.
Competitor Analysis –
Making improvements to your site content and knowing what content ideas and keywords to go after are great, but it's also important to keep an eye on your competitors as well. Through the Competitor Analysis tools on Ubersuggest, you can see which sites and brands are ranking for similar keywords you are going after, and what content of theirs is ranking as well.
In these same reports you will see difficulty score rankings and domain scores, which can help with the research and analysis process when trying to determine if these are search phrases you want to go after. All of this data is ideal for anyone that is looking to get an upper hand over the competition within their niche market.
How Much Does Ubersuggest Cost?
As mentioned earlier, Ubersuggest was created because Neil Patel was working on a new SEO project and wanted to create something of value for nearly every site and brand, but without the high associated costs other platforms like Ahrefs, Moz and SEMRush require.
This was all possible through the vast experience and expertise Neil Patel has in the industry. Not only did he build an SEO tool and solution that was ideal for site owners of all sizes, but also for his own personal site and keyword tracking and competitor analysis. In addition to everything else, Neil wanted to make sure the site was easy enough to use and understand, no matter what amount of site ownership or online marketing experience one might have.
Once a user is on the site and is told they've hit their max amount of daily searches, they will then need to create a free account and connect to their Google Console account. This allows for limited free and improved site search reports and recommendations.

For anyone wants to take advantage of everything Ubersuggest has to offer, their pricing plans start as low as $29 a month, which is a third of what other leading competitor SEO tools costs. Paid members will also gain access to a wide range of resources and features created by the Ubersuggest team to further help with SEO results and site optimization. Such features include online training videos, biweekly Q&A calls, email support and worksheets and templates to put all course materials into action.
This pricing point allows for up to one to three different sites to be tracked through the platform. Other plans are available for site owners with multiple sites or agencies looking to manage and track more than eight site properties. Discounted lifetime plans are also available.
Ubersuggest Review at a Glance
As you can see from the Ubersuggest review and highlights above, it is without a doubt one of the best SEO tools and tracking platforms out there. Factor into the equation that Ubersuggest offers limited free access and keyword reporting without the need to create an account or login, and that's just another added bonus.
For serious content creators and site owners that want to get an edge on the competition while also improving their search rankings, upgrading to any of the premium Ubersuggest plans is a no brainer.
When you look at the many different tools and solutions on the internet today, it's tough to know which ones are best for your site goals and budget. However, with everything that Ubersuggest has to offer, and that they allow you to try the site out for free, it just seems like a no brainer.