Let's come straight to the point— with most of us focusing on international SEO— we somehow seem to neglect the might of Local SEO & what it can do for our businesses.
Ask yourself a quick question: what would you prefer— a slow national/international SEO client base or a ready local SEO customer base? Not taking anything away from global SEO— it's the most powerful SEO strategy one can have— but should you not target or make your presence felt within nearby customers when they're searching for local businesses and services?
And why not if local searches connect you with highly motivated customers? Take a look at these reasons:
Local search intent is very specific. You know what your clients are searching for. When they search good gyms in Florida, they aren't looking to enroll in California.
Local searches have a clear purchase intent. Why would they search for a gym in their city? They're in the last ring of the sales chain. They're close to converting. Research shows 78% of local searches lead to conversion.
Local searches have higher personal visits. Something you wouldn't get to see with global SEO. Close to 75% of people visit personally after doing local searches.
You need Local SEO more than ever amid CoronaVirus flare-up in 2020.
Have you noticed the impact of Coronavirus? It has force-stopped businesses momentarily and disrupted federal and international supply chains. What you have the best access to is the local marketplace in your hand. And you would want to capitalize on it.
Look around you— situations have compelled people to rely more on local services like groceries, health essentials, toiletries, and many more. Improving your local SEO services will help your locals find what they need and want at the moment.
But local SEO is not a tic-tac-toe game. It's like a monopoly or Catan board game. 
Local seo is not a kid's criss-cross on slates. It's more of a science project that we get to complete in our 5th grades. But if done correctly, you're in the hunt.
Wondering what makes a local SEO campaign successful? Thoughtful strategies improve local SEO & optimize websites for local searches. And you gotta work on it. Fret not! We'd help you with a comprehensive local SEO guide so that you get to target localites in your locality. Go ahead, reading it.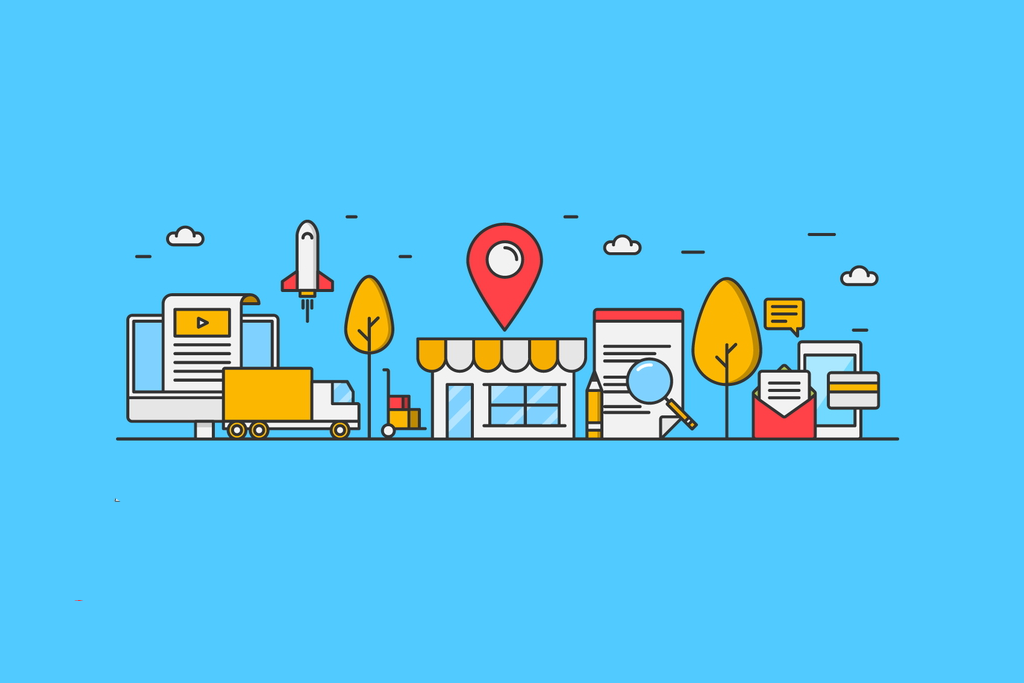 Local SEO guide— optimize your site for local searches with these tips.
Major tip: Google is a tough nut to crack. Begin with appealing to its local ranking factors.
Local SEO tips may not bring you the best result when you're not appealing Google's local ranking factor. No, you don't have a choice. To have the best local search results, you've to consider these ranking factors.
Proximity: How close your business is to the searcher
Relevance: How relevant your business is to the search query
Prominence: How much online-authority your business has and how well-known it is in your locality
If you work in these three categories, you'll have a good time offering your business in your local vicinity. Let's work on them one by one.
Tips for working on proximity factor
Tip #1: Add your business address to your website
Something that stands between you and your customer is your address. Not mentioning it on your website will leave a lot of work on search engine bots. And these bots don't like extra work. You need to serve your address on the plate. Here's what you can do:
For a single business location, add a business address to your contact page and footer of each web page.
If you've multiple branches, create a location's page and address out all the areas.
Tip #2: Embed a Google map of your business location
You want to be an excellent host to your visitors. Right? To help them reach you without any hassle— embed a Google map of your business location that takes them to you. Don't forget to add location-based structured data.
Tip #3 Apply location-based schema to your business, organization, product, and service.
Google's local pack is hard to appease. It's nearly impossible to get into their local books without a location-based schema. Google bots are smart. They may understand English. But don't forget that it's not their native tongue.
Adding location-based schema is the same as talking with bots in their native language. Fixing a few code-tweaks to the pages of your website, product, and services will make everything easier for bots to understand what you do and where your business is.
Tips for working on the relevance factor
Tip #4: Optimize title tags and meta descriptions
Local seo services are not about wasting anyone's time. You have to be right on the money with whatever you do— that's called relevance. And the process stands true for meta titles and meta descriptions too.
The meta title tag is the main title that appears on the SERP. A meta description is a promotional statement or blurb that justifies the title. Since it's a pathway to your website— you need to have it strongly optimized. Here's what you can do:
Include your area, region, city, & business category in both meta title tags and description.
Strictly limit both the meta Infos. Title tag to 60 characters. Meta description to 320 characters.
Tip #5: Research, target, and optimize your website for local keywords.
The local keyword has to be one of the critical ingredients of a local SEO guide. Apart from localizing your location, category, and web schemas— you must optimize all other web pages with locally-focused keywords.
Research and target long-tail keywords and phrases that your visitors may search. For example, 'the best gym in Florida' or 'budget-friendly restaurant in Texas.' Usually, low volume keywords in global SEO don't help, but low-competition local searches are more likely to convert.
Tip #6: Get yourself enrolled in Google and Bing my business directories
Google My Business is a kind of business directory where you list your work, address, and all the necessary details. You may have plenty of run-ins when you have to select from more than 2000 categories, but don't worry— you'll eventually get there with the help of a local SEO expert.
Use primary and locally-focused keywords while filling the content & NAP details in My business page so that your brand appears as a rich result on SERP. To show your multiple business locations on rich search results, list out distinct GMB accounts. Google and Bing will relevantly peddle your site to the customers depending on their proximity to your store.
Tips for working on prominence factor
Tip #7: Cite your business on other citation websites. Maintain NAP format
Google My Business is undoubtedly the best business citation you can have. But you need to mark your citation on other websites for more prominence. The key to this is to copy the exact NAP format of your business info from GMB to these directories.
Citing is undoubtedly a strenuous task when you're to list your business across the slack, but you can have them easily if your pockets are deep. Tools like Moz Local, Yext, WhiteSpark, etc. tell Google that your business is authentic and trustworthy.
Tip #8: Implement off-page SEO to improve local SEO
Local SEO is not restricted to on-page optimization and listing. Shifting to off-page SEO can get your quality backlinks and help yield some authority and credibility. How would Google bots know that your business is credible, and your website holds any authority?
Off-page SEO efforts help Google understand your credibility and authority score. Having quality websites linking or pointing to your business promotes better indexing and higher ranking in the search results.
Guest posting, influencer marketing, brand mentioning, and fixing broken links help web crawlers with different paths to reach you, thereby enhancing your local search chances.
Tip #9: Have reviews for your business
Authority! Google loves it wherever, and whenever you earn it! Getting reviews for your business is another way to tell the mighty search engine that you're a credible source of business, and customers feel helped to work with you.
You can have or generate reviews on Google My Business. Link the form with your website and make it an essential part of your local SEO plan.
Again, GMB is not the last place to have reviews. Earn organic reviews on Facebook, Yelp, etc. to name a few and get yourself highlighted in local searches. Avoid paid reviews. It's illegal to buy paid Google reviews.
Wrapping up. Local SEO services key facts.
Local SEO connects your business with customers who matter the most— local shoppers.
You don't mandatorily need a website to show up on rich results on SERP.
Local SEO presents a great deal of web presence for brick and mortar businesses. Though you may face some challenges, it's always better to have your business optimized locally than not to have it at all.
Google uses search evaluators to decode your prominence, relevancy, and proximity. Stay concise and on the money.