The b2b ecommerce platform, also known as e-biz, has been on the rise for the last couple of years. Experts agree that the B2B platform will grow twice as much as the B2C platform in the coming years. This platform allows businesses to exchange information, products, and services. Through this e-commerce platform, your business will do exceptionally well in the digital world. However, for you to reap benefits from the e-biz platform, you need to choose the right b2b platform for your business.
Benefits of the B2B platform
As discussed earlier, the b2b ecommerce platform has many benefits to your business. First, it offers an easier way of reaching your potential customers. However, it would help if you had web pages that describe your business as a whole. The web pages need to pinpoint several issues, such as what your organization involves, which will increase your sales and business opportunities. If you want to reach out to new B2B clients, you might as well use the public-facing catalogs.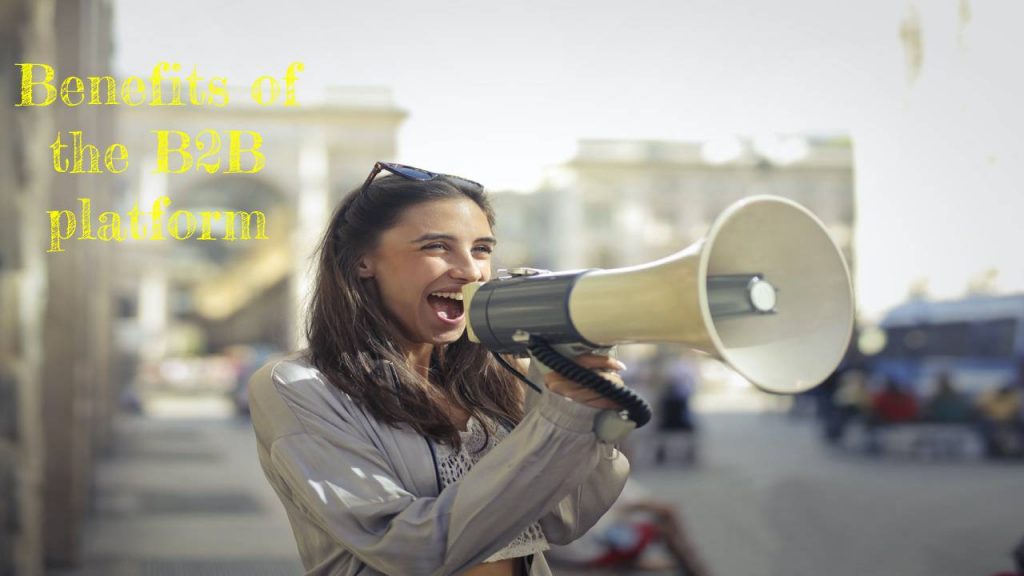 The B2B platform also brings about transparency, streamlining, and efficiency in a business. This, in turn, will increase customer efficiency such that you can merge ordering through the enterprise resource planning software, and this reduces the delay time between dispatch and ordering. You can also reduce the mistakes in the ordering process and order fulfillment in relation to stock counts.
B2B also provides great leeway for the management of suppliers and customers. Through the e-commerce platform, your clients have a custom-made portal that displays their browsing history, personal details, tracking data, and wish and shopping list. As such, customers have more control over their purchasing process, and they do not need to keep making phone calls when they need to buy something or confirm a process. You will also be able to manage your suppliers by taking into account how much inventory you have.
What to look for in a B2B platform
In the b2b ecommerce world, there are different types of e-biz platforms. For each of these platforms has its share of pros and cons, and you need to study them carefully to understand which platform would blend well with your business. However, for you to get the best b2b platform for your business, you need to consider the following:
1. Responsive design
Since the B2B buyers shop on different devices such as mobile phones, PCs, and tablets, your content needs to be accessible through all these devices. This makes it easy for the client to check prices, research the products, and make prompt purchases.
2. Ability to provide self-service
When you are choosing a B2B platform, it should be able to cater to your customers' needs by allowing them to find important information within a short time. The platform should also allow them to solve problems and solely manage their accounts. Your clients need to have easy access to details such as order tracking, shipping information, and approvals.
3. Customer-specific pricing
The B2B platform is unique from B2C because it allows customer-specific pricing and product catalog features. Thus, a B2B platform needs to give you the chance to list different prices for your clients.
4. Different payment methods
Another major difference between the B2B and B2C platform is the payment methods. Most B2B enterprises ship larger and more expensive products. Thus, the platform needs to have a capable monitoring system and flexible payment options. In terms of flexibility, the platform needs to allow payment of one or more invoices or even partial payments.
5. Product catalog management system
B2B merchants find product catalog management extremely challenging. This is because B2B deals with many product catalogs, making it difficult for merchants to organize and list products on your website for your clients to view. Therefore, when choosing a b2b e-commerce platform, you need to make sure to handle complex product catalogs. Sometimes, to help with the challenges that come with product catalog management, you need to invest in Product Information Management.
Types of B2B platforms
There are different types of e-commerce platforms, such as:
SaaS e-commerce: Software as a Service allows software licensing on a subscription basis. This ecommerce platform is also popularly known as a web-based or hosted platform. A third party hosts and maintains the software in the cloud, and you can access the software on a web browser after subscription.
Open-source e-commerce: This B2B platform is available to users who can view, change, and distribute the source code, which in turn benefits your business. This software gives end-users the benefit of heavy customization.
Out-of-the-box: This B2B platform is useful for beginners who are aspiring to start their site. It gives them an idea of how they can build their websites using templates.
Conclusion
Although a B2B platform seems simple to start and run, it needs your full commitment. It would support if you dedicated your time and efforts to research and investment to gain your clients' trust.