Do you spend a lot of time and resources on b2b lead generation? Do you struggle to get adequate leads? If your answer to these questions is 'Yes,' we insist you read this post till the end.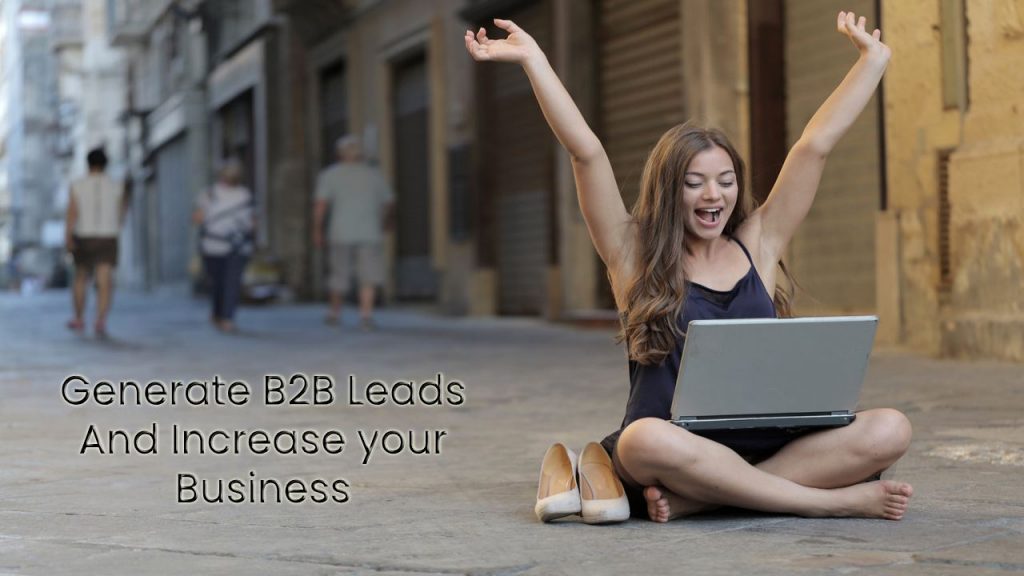 We understand that lead generation is a complicated and time-taking process. Therefore, we bring you smart tips that will help you generate B2B leads more efficiently. So, without any further delay, let's get started.
Turn your site into a lead generation machine
The first step you need to take is, make your website capable enough to generate leads. This process might seem full of hassle, but believe us, with just a few modifications on your site, you can notice a significant improvement in leads.
Here are some tips to improve the lead generation capabilities of your website.
Determine your best content. If you think those lengthy case studies are not working, you can try posting short video posts. Remember, 85% of people want to see video content from brands they follow.
Implement CTAs all over your website. Make sure your potential B2B leads see a call-to-action button in every stage of their buying cycle.
Ensure all your landing pages have compelling yet relevant content.
Don't forget to create a thank you page for visitors who visit your landing page and take the action you want.
Use the Google analytics tool to understand your customer behavior and interests. It will help you create marketing strategies based on their interests. If you want to go one step further, you can plug Leadfeeder into your Google Analytics. It is a cloud-based tool that helps you identify visitors from Google Analytics data and generate more sales leads.
Create a Personalized Email Campaign
If you think email marketing is dead, then let us tell you that 86% of business professionals use email as a primary mode of communication for business purposes. According to 59 % of B2B marketers, email is an effective way to generate revenue. These stats clearly show that email marketing is not dead. However, it has slightly changed with time. If email marketing is not working for you, make some changes to your strategies.
Below, check out some quick tips to write emails for lead generation.
Try to be as brief as possible when writing your B2B emails as most of your prospects might be busy in their workplaces.
Focus on enhancing personalization. Write emails that are tailored to your every recipient. In short, your emails should express the interests of your recipients.
Add compelling call-to-action buttons. You can place a one at the end of your mail, beneath your signature.
Leverage Social Media Differently
We all know that social media channels are an ideal way to interact with prospects. However, when it comes to attracting B2B leads, you need to take a bit of a different approach.
There are plenty of ways you can generate leads via social media.
Add social media follow button to your site. It will increase your reach, and ultimately your leads.
You can take advantage of your email marketing to boost your social media presence. You can include a social follow button to your emails.
Use different social media channels for different audiences. For instance, if you're targeting Millennial B2B customers, you can use platforms like Facebook, Twitter, etc. On the other hand, if you're aiming at younger customers, Snapchat, Instagram will be more convenient platforms.
Consider using paid social ads. Almost all social media platforms such as Facebook, Instagram, Snapchat, Twitter, etc. offer paid advertising. Facebook is kind when it comes to social ads. If you want to reside in a territory where social media platforms are restricted, you can use a VPN service. It will hide your actual ID, and you will be able to use social networking like a local. It is advisable to read maximum reviews you can before buying a VPN service. In case you want to know about the TunnelBear VPN service, you can read the TunnelBear Review.
Social media platforms can also be used to host live events. It will help you gather valuable feedback from your B2B customers in real-time, and that will further help you design your future strategies. If you find your B2B customers are struggling to use your products correctly. You can create a video demonstrating how to use it.
Address Events 
Though we're living in a digital era, we can't entirely neglect physical events. Get to know about conferences and trade expos in your region that allow you to speak about your business. Attending these events will significantly boost your credibility as an authority in your industry.
One of the most significant advantages of speaking at a business event is, you get the undivided attention of your audience. Remember, events are an ideal platform to mingle with minded businesspersons who might be interested in your services. So, whenever you think you have the opportunity to speak about your business, take maximum advantages you can.    
Use eBook for Lead Generation
Launch some eBooks that are relevant to your business and industry. Since the use of smartphones & tablets has increased excessively, launching an eBook can be an excellent option to get some good leads. An eBook can be a good source to educate your B2B customers about your business.
However, you need to ensure that all the information you're providing in your eBook is useful and relevant to your prospects.
Check out some tips to create eBooks for lead generation.
Your eBook must attract prospects who are in the awareness stage of the funnel. Choose the title of your book carefully – it should match your audience's interests.
Identify the issues your customers might encounter when using your products. Your eBook must address those issues and provide a quick solution.
Since the majority of people will search your eBook via a search engine, make sure it is well-optimized for search engines as well. Do proper keyword research as you do for your website content.
Choose the keywords that can rank in search engine results and serve the purpose of your customers.
Experiment with Your Content
As you know, visual content is in trend nowadays like rfq in Singapore; you can create some videos and infographics. You can also experiment with your existing content as well. You might have some blogs on your website guiding your prospects about your product or service. You can use that information to create engaging video content. Besides this, you can also use that content in your infographics. Don't forget, an engaging and entertaining content makes your brand much more memorable and ultimately helps you generate leads.
Final Words
For any business, leads are the foundation of survival. Unfortunately, not all B2B companies are getting an appropriate number of leads, resulting in poor revenue. One primary reason why businesses don't generate adequate leads is that they stick to old lead generation methods. As a B2B business, you must explore new paths for producing hot leads. In this post, we talked about different ways you can improve lead generation in the machine age. Hopefully, you will find these tips helpful.