Car insurance is often expensive and sometimes more costly than you can afford. Besides, you may not need 24/7 car insurance. According to your particular needs, temporary auto insurance could be the most suitable option for you. Here, you will mug up everything you need to know about temporary car insurance and when to use it.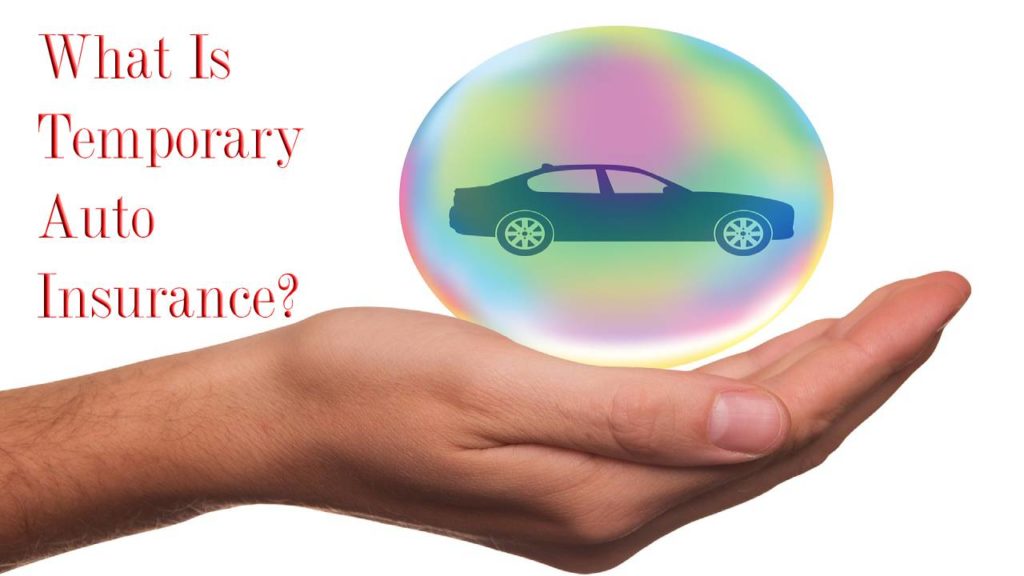 What Is Temporary Auto Insurance?
Temporary car insurance doesn't work the same way as regular car insurance. When you purchase an ordinary policy, you generally do it for an extended period, at least 6 or 12 months. This is different from temporary coverage. You can buy it in the short-term: a month, a week, or even just one day.
Let's say your friends are moving out and you are helping them with transportation. You have rented a moving just for one day; so, you could buy temporary insurance to cover the truck.
Another example would be if you have bought a new vehicle and you are going to drive it off the lot. You could be required to purchase temporary auto insurance before you're allowed to drive it off the lot.
You could also buy it when you are about to stay in a specific place for a short time. For example, you will be working in another state for 2-3 months and need short term coverage.
Car rental insurance could be tricky for more than one month, and most carriers require at least six months of coverage. Temporary car insurance is a solution to this type of situation.
Another situation to buy it is when you are on a long break. Suppose it is winter and the cold weather is terrible for your bones. You will drive south, and temporary insurance for cars could cover your trip to a warmer place. You could find a high number of circumstances where it is the proper solution, and sometimes the only one. Let's take a look.
When and How Should You Use Temporary Auto Insurance?
Classically, it is used when you have bought a car in a place other than a dealership. Often, they have their car insurance associates they deal with. So, you should have it to cover your car on the ride from the lot to your house. The dealership allows you to purchase it for your car that is valid for just a day or up to a week. The dealer allows you to purchase temporary coverage for one day or one week.
You could get traditional car insurance once you have your car parked in your garage. You should get quotes online from diverse companies and compare each one. Then choose the most suitable one for you. When your period expires, your new auto insurance policy starts.
You could also purchase it when someone else borrows your car, say a relative, or a friend. You may be convinced of your skills and experience behind the wheel. However, would you trust someone else?
In this situation, you could add supplemental insurance to your policy, or perhaps extend the limits of your coverage. However, buying a completely new policy for your lent vehicle might give you absolute peace of mind. It could be a temporary policy that would be valid for as long as someone else uses the vehicle.
When you own a vehicle that you drive only on specific occasions, like an RV, a motorcycle, or a sports car, taking out temporary auto insurance might be the right choice. Maybe you have bought your RV in a different state, and now you are heading home with it. In this case, you could purchase it to cover this trip. Perhaps, you are escaping from cold weather (a snowbird). When you move from north to south and then back again, purchasing temporary RV insurance could protect you during this process.
Some people need very cheap car insurance with no down payment because they cannot momentarily afford a traditional policy. They may not have sufficient credit to arrange their monthly payment plan with the insurer. If this is your case, you can always use temporary auto insurance, and you would be covered for a while. In the meantime, you can set conditions to buy your long-term auto insurance policy.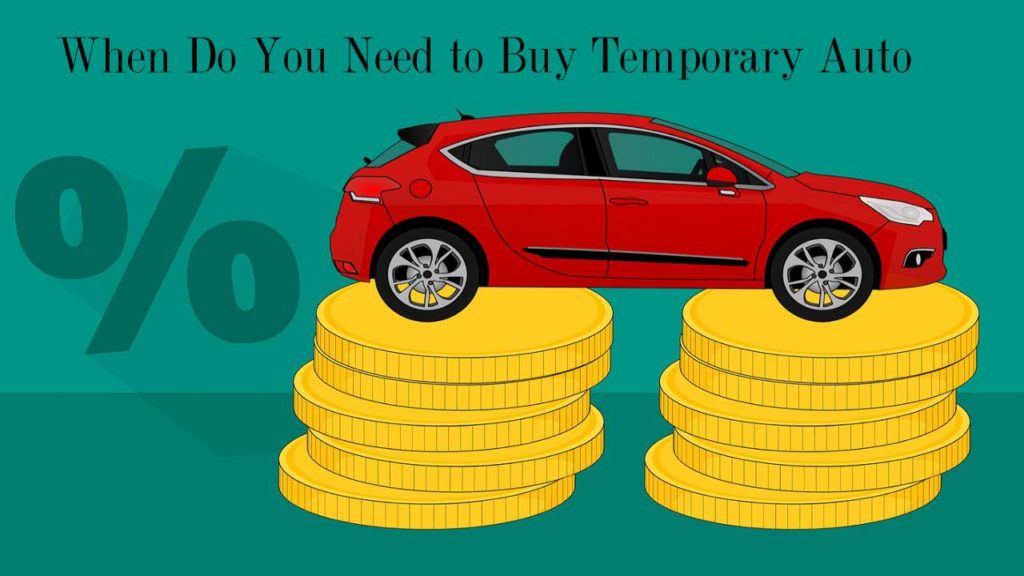 When Do You Need to Buy Temporary Auto Insurance?
You can find listed below some of the most common motives to purchase it:
You need to drive your car, your previous policy has expired, and the new one hasn't started.
When You are about to start a road trip across the country, and you need to insure a rental car or another vehicle for this reason.
You have rented your car for a short time to a friend, a relative, house guest, etc.
When You are keeping a vehicle only momentarily.
You want to have a certain level of coverage for a car that is in a garage.
When You are driving around to show a car you want to sell to potential buyers.
You are a college student at home on vacation and want to drive a car during this period.
You are driving a brand-new car off the dealership to take it home, and you need coverage only for the trip.
Do You Need it?
Sometimes, even if you find yourself in one of the situations listed above, you do not have to purchase it. Maybe, your traditional car insurance could provide you with adequate protection.
Let's say, for example, that you have lent your vehicle to someone else. Your insurance still applies if the borrower drives your car legally. If that person has permission to drive your vehicle, your policy will follow the car and not the driver.
If your credit card company extends coverage when you have rented a vehicle, you may not have to purchase temporary insurance for your car. In this case, you should keep in mind that you must have paid for the rental car with your credit card and your credit card must have car rental coverage.
We advise you to analyze your policy carefully or to contact your insurance agent or company if necessary, to find out if you should buy temporary auto insurance.
If you have bought your car from a dealership, they might prohibit you from driving the vehicle off the lot. First, you have to buy temporary car insurance or, at least, to prove that your policy covers newly purchased cars. At the same time, although your credit card might have rental car insurance coverage, it could include only standard vehicles, for example, a budget car, and may not cover a moving truck.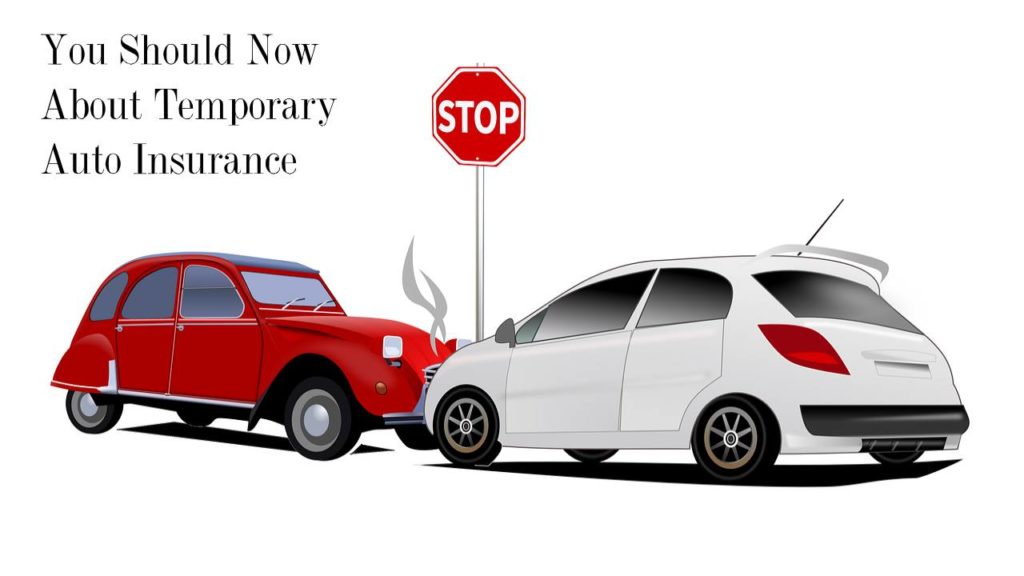 Is There Anything Else You Should Now About Temporary Auto Insurance?
It could be what you need to solve your problem. Read below some more issues concerning this topic:
Typically, short-term insurance is purchased for a period ranging from 1 to 28 days. When you need car insurance coverage for more than this time, maybe you should buy month-to-month coverage instead.
On the other hand, you could find several companies that offer it that would extend your coverage for more than 28 days.
Buy short-term insurance coverage limits as high as you can when driving a high-end car. If you have bought cheap temporary auto insurance and you take part in an accident, perhaps your coverage would be insufficient to cover the expenses that might result from the car crash.
Keep in mind that you should study in-depth the reach of your temporary coverage. Temporary car insurance policies have several exclusions, and they could make it hard to file a claim.
Verify your policy covers "Acts of God." Some short-term policies would not make a payment after a claim if the car is damaged in an "Act of God," say a hurricane, an earthquake, a storm.
Check if your temporary auto insurance policy offers full coverage or just liability-only coverage. Full coverage policies protect you in the event of vandalism, theft, and environmental damage. Liability-only policies cover damages to third parties in an accident.
Could You Get Cheap Temporary Auto Insurance?
You should be well-informed on that to find the best option for you. People often search online what they need. Only by typing "temporary car insurance" or "temporary car insurance USA" in your browser, you'll find a lot of useful data.
In the United States, you can find the top insurance companies that offer short-term car insurance policies, while other companies specialize in temporary auto insurance. To get the most suitable short-term insurance for your particular needs, you should compare quotes online or contact a car insurance agent who can assist you with temporary car insurance plans.
Also, you should check if your current policy could automatically cover your requirements. You might also want to check if you could cover these needs through your credit card or your rental car company. Do all this to verify that you are not paying more money than is essential.
When you have all the information you think you need, comparing temporary auto insurance quotes will take you closer to your goal: the perfect policy for you. Enter your ZIP code to start comparing quotes right now.