In this booming era of digital technology, classified websites are a significant hit. The heightened growth of the internet and its usage has enabled digital marketers to bring all niches on one podium. By offering every product belonging to different vocations, digital marketers aim at reaching thousands of people in a short amount of time. People spend most of their time online; they are more driven towards platforms providing solutions for all their problems under one umbrella. Not only classified websites serve as a great marketing channel, but it also fosters more interaction with your customers leading towards increasing sales and lead generation.
Craigslist happens to be one of the most premium websites for classified offerings. With the help of craigslist, a customer can buy a sofa or even rent an apartment. Yes! This is how diverse craigslist is. With over 50 billion page views per month, craigslist has immensely gained popularity all over the globe. Founded in 1996, as a web-based podium in San Francisco, craigslist has been able to expand in 70 more countries. Covering all sorts of niches, it also provides discussion forums and online portals to boost customer interactions as it believes establishing two-way communication is the key to sustain loyal customers.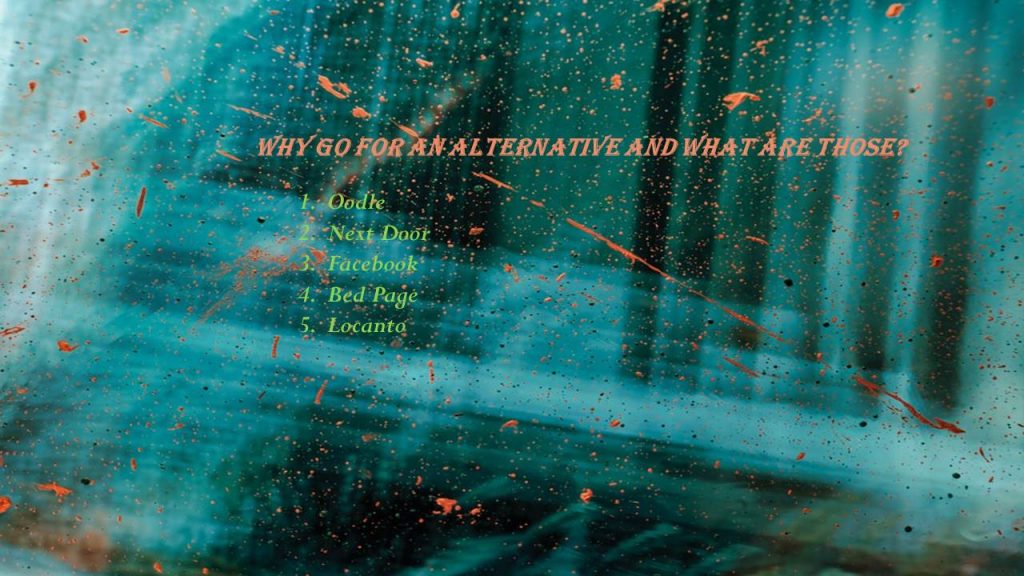 Why go for an Alternative?
Unfortunately, Craigslist has spawned some severe backlash over the past couple of years. Due to its open nature, craigslist was used by some corrupt individuals for illegal activities. For this reason, craigslist terminated its section of activities to combat sex trafficking allegations. Hence, users are requested to proceed with caution when using the site as Craigslist offers no protection policies for buyers and sellers. Such defamatory depositions caused, craigslist to lose its charm causing digital marketers to emerge the website in some cases, prompting marketers to create safer but similar platforms. A similar case was witnessed with Wikipedia as the pages can be edited. Yet, Wikipedia experts managed to maintain authenticity on this platform.
So, if you are skeptical about craigslist being secure, then this blog will assist you as it entails a number of alternative interfaces with fewer spam postings. So, without further ado! Let's get started:
With 1.83m total visits, Oodle specializes in offering products from a diverse range of categories. From products related to merchandise, vehicles, jobs, car rentals, and even pets, oodles leaves no category behind. Thus, it's safe to say Oodle is one of the most reliable websites to shop from in 2020. So, if you are on your way to buy a new car or on a job hunt, then Oodle will assist you in narrowing your search to look for options nearest to your home.
Moreover, with oodles filtering options, you are given the ease in making a choice. For instance, if you are looking for a car, then you can divide it into different categories like sedan, SUV, or hatchback so on, and set the price range accordingly. Thus, Oodle undoubtedly is the perfect partner for all your buying needs!
Next door has adopted a more localized approach of some sort. Unlike Oodle and craigslist that provides buying and selling options from all over the world, next door offers its users with an opportunity to conduct buying and selling in their respective neighborhoods. It somehow resembles that of a social platform mainly created for neighbors in the local area to list their items to sell and buy; that's why it is named next door. Hopefully, that rings a bell!
Unfortunately, one big issue with next door is that it still needs to go a long road because it doesn't contain some essential elements of a professional classified website such as an ad section. But I bet with some minor improvements; it will be on its way to build a credible name in this industry in no time.
How can one forget about this prestigious website that has got millions of advertisers going crazy!  I mean seriously, with over 1.6 billion daily active users, Facebook is the perfect Craigslist alternative. Digital markets soon realized its importance as a vital marketing tool and have not been disappointed up till now.
Facebook also comes with a separate section dedicated to "Buy and Sell" where a user can proceed with purchasing and selling at any desired time by merely just tapping on it. Little did you know, Facebook also works like a dating app so, you can find true love by merely going through a recommended person profile. I believe the best part about using Facebook is that it allows a user to reach a broad range of its target audience due to its popularity so, do consider it!
Bed page and craigslist share astonishing similarities with one another, probably because they both specialize in offering expert personal ad viewings with a similar user interface. It provides tons of categories to its users to choose from, such as jobs, real estate, restaurants, and local cafes. It mainly focuses on an adult section that crawls with sponsored ads, making it quite challenging to determine original postings. But despite these issues, the bed page is still amazing at offering personal ad section.
For people who have been living under a rock, Locanto is another excellent alternative to use instead of Craigslist. Initially established in Germany, it is now accessible from 60 different countries. Posting an ad here is also comparatively easy and generates more responses due to its vast user base. Moreover, it also has an Indian version. Great, isn't it? Hence, it doesn't matter if you are looking for a house or a car; all detailed options are now available to you on your fingertips.
Wrapping it All Up
This blog will help you stay clear of any suspicious craigslist alternatives. Many people land on malware stuffed websites, which are entirely useless to them. My extent here is to provide you with authentic sites where you can make secure purchases. Because let's be honest, when it comes to online purchasing and your hard-earned dollar is involved, you shouldn't take any risks!