Chatbots
Siri…Alexa…Google Assitant.
If you've used these smartphone assistants, you've already experienced 'audio bots' in a sense. This makes sense as more and more customers are willing to the chatbots route. According to Capgemini, 71% of consumers claim they are satisfied with their smartphone voice assistants today. Additionally, 62% find chat assistants 'satisfying' on a company's website.
Simply put, chatbot adoption by customers and businesses alike is growing at an exponential rate. Let's look at what the data tells us:
Chatbots now handle about 59% of issues according to

data by HelpShift.

A staggering

83% of consumers wouldn't mind making messaging

their primary means of contacting customer support if they could be guaranteed immediate response.

Out of the top-100 organizations in each sector, 48% of automotive companies, 23% of consumer products and retail companies, and 17% of retail banking and insurance firms use

AI in the form of voice assistants.

Research by Oracle

claims that "

86% of customer experience executives expect to use AI to customize every product or service offered by their organization within the next five years."
Needless to say, looking at the numbers, we know for sure that chatbots and AI have a bright future ahead. But what makes them so effective and why are more-and-more organizations driving the chatbot revolution? Keep reading.
Driving Winds of Personalization: Top 8 Benefits of Chatbots for Online Businesses Today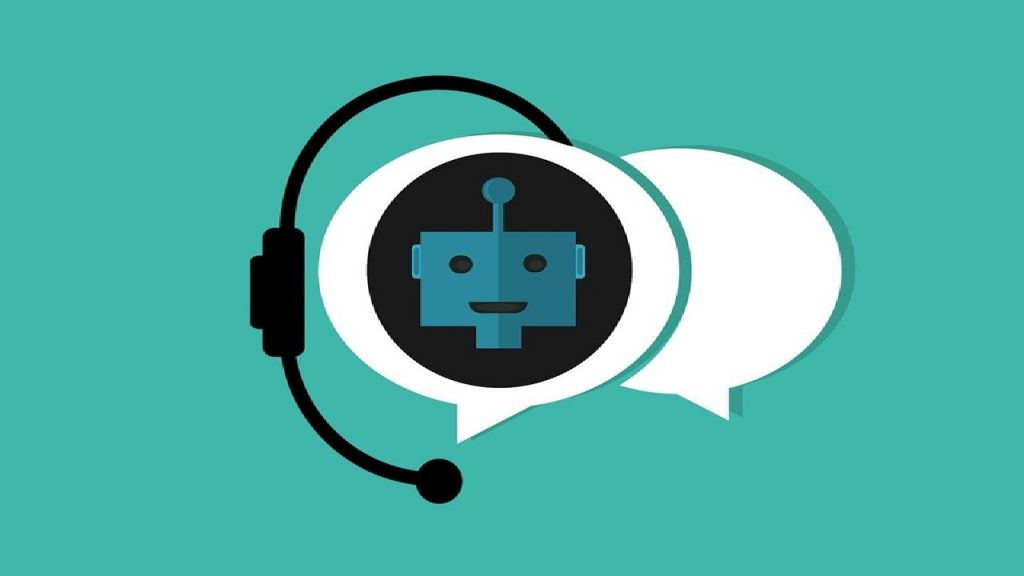 24X7, Proactive Customer Support
An as experienced CRO, it is critical to understand why 74% of customers prefer using conversational assistants, aka chatbots. There are multiple reasons that come to mind:
Get access to well-researched products and buy products and services in a convenient and quick manner, as demonstrated below by

Acquire's chatbot

:
Increase the business' Net Promoter Score (NPS) as a result of instant and effective query resolution.

Reduction in customer wait-time – as much as 5 minutes or more.

Around 20% increase in first-call resolution.
Key takeaway: Chatbots act as a key enabler for businesses and help in boosting a company's customer engagement strategy. In fact, according to a survey by Capgemini, twice as many customers will knowingly engage with chatbots because they are "very helpful."
Predictive Customer Experience, Customized Branding
A chatbot that offers half-baked personalization is worse than a generic variation. It leaves the customer's confused and overwhelmed, which can make matters worse. Whole Foods Facebook Messenger chatbot is a refreshing change: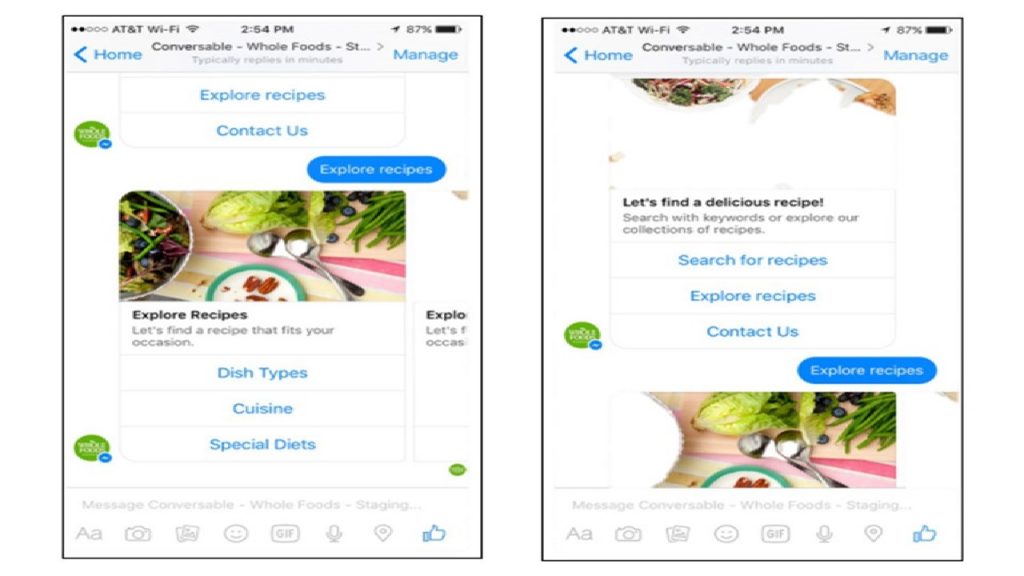 It allows users to search for recipes easily, offers filtered information, connects with users on a personal level, and offers well-researched, personalized data such as offering diet-specific recipes.
Key takeaway: If you wish to get a glimpse of the underlying customer sentiments and work towards fulfilling their needs, invest in chatbot technology that can be personalized and can help streamline your support operations simultaneously.
The Dual Pillars of Stellar CX: Artificial Intelligence (AI) and Machine Learning
"45% of executives say a popular use case for AI is proactive, or "predictive" customer service that can identify client needs, issues, and support requests in a bid to best prepare staff for handling these types of issues" – Oracle 
A heady mix of personalized communication and empowering technologies (think: AI, machine learning, etc.) can truly deliver a world-class customer experience. Get this: Research by HelpShift claims that the highest CSAT scores for efficient issue resolution include a combination of agent and bot. Take, for instance, the case of Emirates Vacations: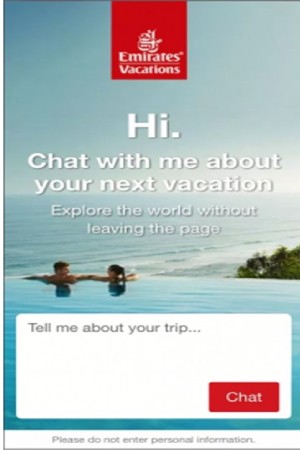 The company was struggling with low CTR (0.35%) for display ads. The solution? They created a chatbot within the display ads. That's not all. They integrated varying visuals and chatbot sequences based on a person's browsing history. Not surprisingly, engagements increased by 87%!
Key takeaway: Using automated technologies such as AI and machine learning can augment agents to take better care of the customers in a seamless, digitized manner. How so? By providing unparalleled relevance and personalization to the customer's journey and enhance customer satisfaction with a brand.
Build on Canned Responses
Canned or saved responses can be your best bet for enhancing and facilitating your live chat services. There are various kinds of saved responses to try from:
Welcome and goodbye messages

Providing information on available support resources: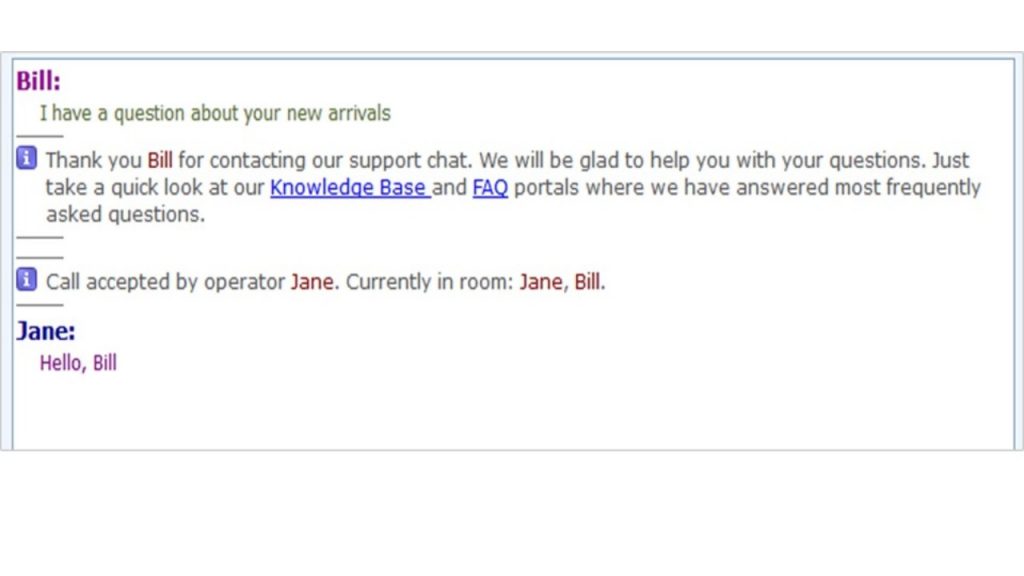 Offering instant answers to FAQs

Making changes and giving up-to-date information to the customers: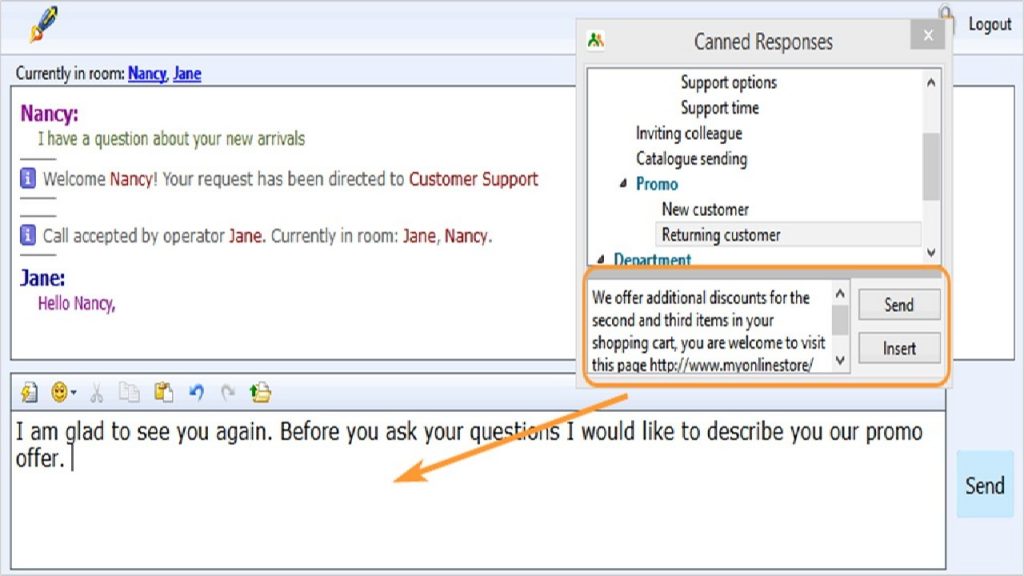 The trick lies in using information and tailoring content accordingly to cater to the user's needs. Chatbots such as the one by Acquire offers the best of both worlds: collecting information first-hand about customers while solving queries simultaneously. Using this valuable repository of information, they can offer the following benefits to customers:
Creating predefined responses that can be used during the chat.

Offering a rock-solid knowledge base based on inputs from existing FAQs, chat history, and your knowledge base.

Converting visitors into qualified prospects and routing them to the right reps to keep the conversation — and your sales — going.
Key takeaway: If your customer abandons the chat or is lingering around lost-and-confused, conversational bots can lure them in and understand what went wrong. The idea is to be creative and ensure that the bots end up surprising the customers pleasantly, and not the other way round.
Disconnected and disjointed customer experience can totally break your customer service game. The more detailed and rich your content, the better your customers will feel while interacting with your brand. Hipmunk makes a compelling case: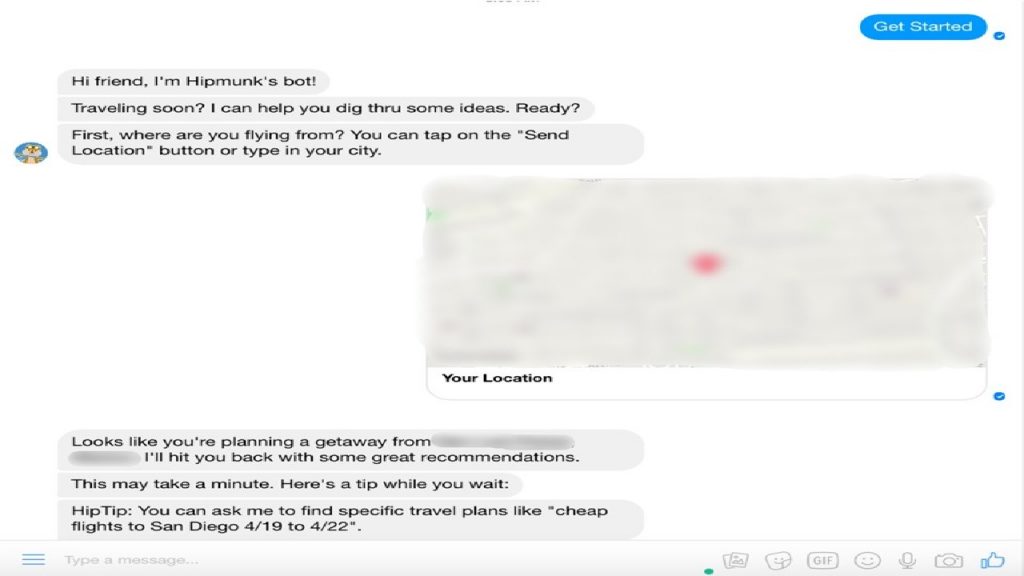 Hipmunk's Facebook Messenger chatbot offers a convenient, interactive, and detailed conversational experience to any user who is looking to book tickets, hotels, or even flights. Plus, bots can be used to send relevant deals and discounts based on the user's preferences. In a nutshell, multi-dimensional benefits within one tool.
14X Higher CTR and Greater User Interactivity
Madison Reed's hair color bot has one aim and one aim only: It is obsessed with finding your most flattering shade. This text-based bot goes the extra mile to give user's exactly what they want and even allows them to send selfies so that it can recommend the ideal hair color. The results? A 400% increase in customer engagement and a 21% click-through rate to the company's website. What makes it so effective? The bot asks relevant questions in a language that the user understands and provides useful answers. So if you wish to boost your CTR, try integrating innovative features to your bot which can actually provide value to the user and solve real queries.
Cost-Effectiveness at its Best
 According to Chatbots Magazine, implementing virtual agents can help businesses to save up to 30%.
Imagine the costs if you had to keep a strong customer service base 24/7. As you can imagine, it would be an illogical, costly, and a trying affair. Chatbots turn out to be a cost-effective solution. Take, for instance, Acquire's chatbot which allows you to:
Scale your operations.

Tackle mundane and routine tasks (think: filling forms) in a seamless and efficient manner.

Enhance your team's productivity.

Save time on first-touch interactions.

Interpret inquiries, answer customer questions, and learn from new interactions.
Key takeaway: A chatbot adapts easily to the business' as well as the customer's needs – that too, in a cost-friendly and effective manner. Did you know that by 2022, chatbots will cut business costs by $8 billion? Need we say more?
Get Your Hands on One of the Best Lead Generation Tools of the Decade
Here's an interesting case study to consider: National Geographic wanted  to promote their new show, "Genius." What did they do? They created an intimate chatbot which spoke like Albert Einstein would: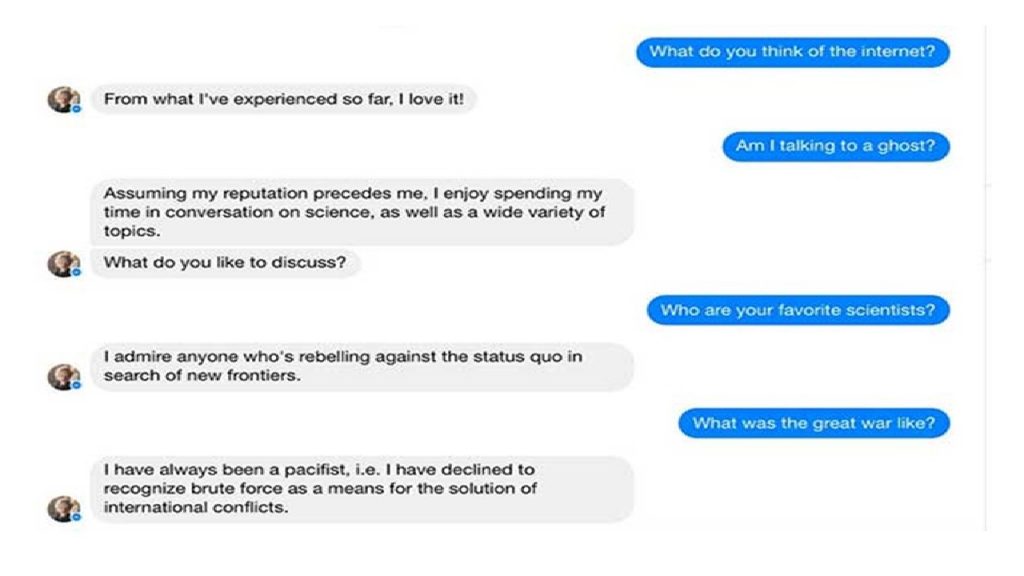 The results were anything but shocking: It led to an average 6-8 minute conversations, around 11 turns per conversation, a 50% increase in user re-engagement, and an engaged community of followers. Amazing, right? 
Key takeaway: Chatbots can generate double-up as a lead generation engine if they're implemented with care. The idea is to make them informational, conversational, and humorous (without bordering on being rude).
Wrapping Up
Chatbots have emerged as an integral touchpoint and a creative bridge between brands and customers. They help drive valuable and meaningful conversations and boost revenues – the ultimate goal of every company, right? Are you convinced yet? We thought so.
Author bio:
Ashwini Dave
Ashwini is passionate about Business, Entrepreneurship, E-commerce, emerging technology and Digital Marketing. She is working with Acquire as a digital marketing expert. She is a free soul and adventurous scholar who spends her free time with herself, loved once, music, as well as watching & playing sports. And She is ocean addicted and on roads being a thrill-seeking traveler to get new experiences as she looks at life as our very own works of art.
Linkedin: https://www.linkedin.com/in/ashwini-dave/
Twitter: https://twitter.com/AshwiniDave1