Best Task Management Software
Best task management software – Fast-paced companies or teams always have the same problem: they only have limited time and resources to get things done. No team can afford inefficient workflow, breaking down the entire organizational system and cause severe damage. Many business owners spend a considerable payroll budget on expensive plans, team building sections, time management courses, and more. To increase the productivity of your colleagues and ensure the delivery of work on time.
2021 is the era of workplace intelligence; no one wants to notify with sticky notes on their desk or an endless email loop anymore. From giant companies to small businesses, implementing quality task management software has become a necessity for the business to run smoothly. But what if there are a few simple productivity tools that can keep a team on the clock and optimize limited resources as efficiently as possible?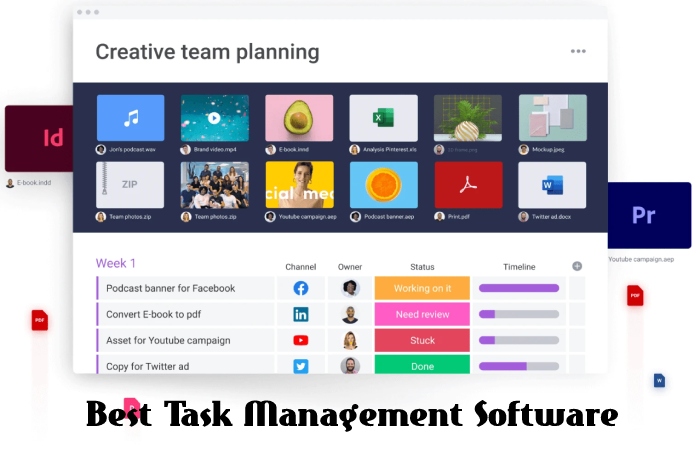 The Best Task Management Software Of 2021
This article will present and review various task management software for creative teams, which involves those that do not require too much effort on the learning curve and will not increase your expenses. Annual audit form.
1.Quire
Quire has recently become one of the rising stars for award-winning collaborative productivity tools and has received many positive reviews and recommendations from business owners. As simple as it is, Quire is the perfect task management software that works both online and offline to increase the success of collaborative teams.
The intuitive and simple user interface always decides for anyone who comes across a new task management tool. The Quire development team has spent years of effort striking a delicate balance between simplicity and powerful features. The sleek and intuitive user interface is one of the things Quire users love the most.
You can onboard your teams to Quire and configure each member with different roles and permissions.
With Quire, you can create and manage all your tasks in various projects in a categorized way. With the hierarchical structure, all your complex projects can organize and easily coordinated with other team members.
Many task management software or project management software use to-do lists as one of the main functions. However, Quire took the to-do list to another level, introducing a nested to-do list – unlimited tasks and subtasks to help you break down big ideas into smaller, achievable tasks.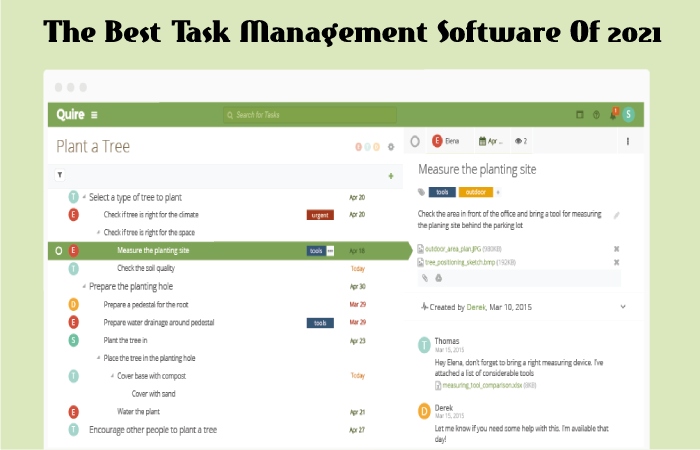 2. Asana
Asana always has one of the most common task management tools. You can use Asana as a platform or personal to-do list to collaborate with your small teams. Users can select a different design mode for each project configuration; B. List, blackboard, calendar, etc. With Asana, you never miss a deadline with the timeline feature.
Asana's user interface uses an elegant design with many bright colors to enhance user productivity and work mood. However, it can be a huge disadvantage for anyone who is in love with simple design.
Dissimilar Layout Modes:
Tasks, Boards, Calendar (Premium), Timeline (Premium)
Schedule a lesson, owner
Authorization control (Premium)
Custom fields (Premium)
Google SSO (Premium)
Price: Starts at $ 9.99 / month
3. Todoist
Todoist has been around for a while and keeps adding new features to the list. The user interface is straightforward and packed in a minimalist design. However, Todoist is better suited for smaller teams or personal use than a large creative team with complex projects.
Todoist's to-do list reproduces the yellow notepad that everyone knows from college. You can set due dates, recurring appointments, and priorities for each task.
Todoist also has different task management apps for various platforms, from iOS to Android to Windows Mobile. The ability to integrate with many productivity tools like Gmail, Slack, Thunderbird, etc., is also an important selling point for Todoist.
To-do list
Due dates, recurring appointments, priorities
Limited project numbers
Location-based notifications (premium)
Integrations (Premium)
And also, price: from $ 3 / month
4. Smartsheets
Smartsheets is a cloud-based task manager that is ideal for managing daily tasks for small teams. Smartsheet uses the border that mirrors a spreadsheet. You can collaborate with your team using all the basic task tracking tools: B. Tracking, task assignment, cross-platform collaboration, etc.
Smartsheets are a specialized tool, as it looks more like a task management table than a standard task tracker. So if you are very familiar with using Excel as a free task tracking system, you will be happy to switch to Smartsheets.
Collaborative web-based task tracking systems
Import / Export from a Google spreadsheet
Real-time team collaboration
Timeline, share sheets, create summaries.
Task assignment
And also, price: from $ 14 / month
5. Trello
If you are looking at a task management device with a Kanban board, you may have come across Trello multiple times. You can set up a project with various cards on different tasks and committees for other project progress.
The visual workflow performs very well, moving the cards from one column to another despite the outdated user interface. Subtasks embed as checklists in card descriptions, so you have a clean and attractive work area. However, the absence of a list is one of the several reasons why users look for alternative Trello software.
If your team doesn't have to work through a to-do list or your projects aren't very complex, Trello seems like a great option to help you manage your work.
Kanban board
Schedule a task, stickers, labels
Team collaboration tools
Ignition integrations (Premium)
Authorization control (Premium)
And also, price: Starts at $ 9.99 / month
Task Management Software With Kanban Board
If your team doing a sticky note board for a long time, Quire's exceptional Kanban board is a perfect choice. Unlike other task management platforms, you can tackle your projects with Quire and focus as a perfect duo with the Kanban board and nested task list. Quire is a rare, if not the first, task management tool that makes it possible.
And also, Quire has a hierarchical to-do list to help you gather ideas and plan your projects ahead of time. On the other hand, the Kanban board uses execution and progress tracking in a visual workflow form. The great point about Quire is that you can switch between the nested task list and the Kanban board at any time to get the best of both worlds.
One of the most important features that put homework management software in a class of its own as a simple to-do list is the collaboration tool. Your team stays in sync with Quire's real-time collaboration feature. You can access your projects at any time with your mobile phone and web browser. There are not many task management solutions that can update your data in real-time!
In short, Quire is not just an online task management software; Quire is a bridge between your goals and achievements.
Also Read: What is Process Mapping? – Purpose, Understanding, and More
Related Searches:
[best task management software free]
[best task management software for individuals]
[free task management software for individuals]
[task management software free download]
[open source task management software]
[task management software microsoft]
[best task management app for microsoft teams]
[employee task management system]