If you have a business, you've probably heard of the term 'word-of-mouth' and how powerful it is. One customer review on a popular site can be enough to put your company on the map – or just as likely to get you to shut down. Therefore, making sure positive reviews outweigh negative ones is more crucial than ever for businesses.
What Is Reputation Management?
Reputation management is defined as the process of protecting and enhancing a business's image and its public perception across the internet. By adding an effective online reputation management strategy to your business'smarketing strategy, you can gather valuable insights into what your customers are saying about you. This knowledge may help you increase your online presence and revenue.
You may also hire companies, like Online Reviews Guy, to help you manage your online image. These companies usually have a team of branding experts and utilize proven processes and software to help build your reputation.
If you're looking for a few tips on how to keep those positive reviews coming, this article might bewhatyou're looking for.
1.  Think 'Timing Is Key'
When it comes to reputation management, the saying 'timing is key' couldn't be truer. You need to ensure you always interact with your clients on your social media channels with friendly messages and helpful content.When customers have questions, they may turn to these platforms for guidance. The more time you spend in these areas, the more likely you will see reviews from these customers on your website.
2.  Draft An Action Plan
Like how running successful marketing campaigns are, a reputation management strategy also requires an action plan.It's essential in achieving business growth, so dedication and commitment are required to implement it effectively. Also, having a plan helps you become proactive rather than reactive.
In case you're looking into hiring someone else to handle this work for you, social media managers with solid Search Engine Optimization (SEO) skills may bethe best choice for the role. Yet if you're doing it by yourself, consider setting up alerts or creating documents for tracking your online reviews. These documents can help make your tasks easier and provide more detail than an email alone ever could.
Keeping an eye on your efforts and their results may help you come up with a winning reputation management strategy in no time.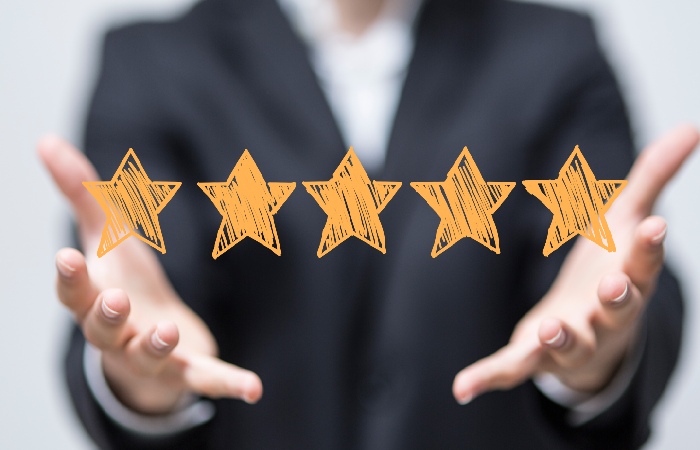 3.  Compare Strategies
Observing what your competitors are doing in reputation management could help you gain an advantage over them. By taking a no-holds-barred marketing approach online, you can quickly increase brand awareness, traffic to your website, and positively affect potential revenue.
If you're doubtful that certain strategies only work for specific industries, consider taking a calculated risk and try it if it'll work on yours.For instance, you may perhaps work on improving your social media accounts and observe whether it could make your reputation betteror not.
4.  Reach Out To All Types Of Customers
A strong reputation management campaign is an exciting way to boost your business's image. One of the easiest ways to get started is to use social media platforms to communicate with and find potential customers.
Reaching out to customers can prove to be a great way of enhancing your business's online reputation. Also, you may increase your online presence and help potential customers make an informed buying decision. However,if you want only to have stellar reviews, that might be a bit difficult to achieve. Encountering constructive criticism may be unavoidable.
You should not leaveout communicating with unhappy customers.Make it a habit topolitely respond to complaints via social media and email quickly. You may also use a personal touch to appeal to their emotions, and convert that negative review into a positive one.
5.  Write Reviews For Other Businesses
Approaching other businesses and offering to write a review for them might seem like an opportunity to receive biased buzz about your company, but it might actually work the opposite way. By writing reviews for other businesses online, customers may start trusting you more because you're open enough to share your opinions on other people's work instead of just your own.
6. Rinse And Repeat
All of the tips above can help you improve your online reviews from customers over time, but know this: Reputation management is an ongoing process. Thus, you need to monitor customer reviews regularly and make sure you respond to them promptly.
Consistency is key in any online marketing campaign, and reputation management is no different. Make sure to constantly update your content strategy on various platforms, whether you're using guest blogs or posts. Don't forget to respondto reviews and concerns too.
Wrap-Up
Reputation management is an excellent way to get more out of your business. By seeking out positive online reviews from customers and analyzing competitors' strategies, you could increase your web traffic and deliver valuable insights into what needs to be done. Work on improving the overall customer experience, and soon, you can turn non-customers into clients.