Transporting your products from here to there involves some thoughtful planning. You'll want to consider the cost, delivery time, and quality of the travel mode. Some methods are more preferred than others. It helps to review the types of items you need to transport first. After that, determining the best option will be an easy decision.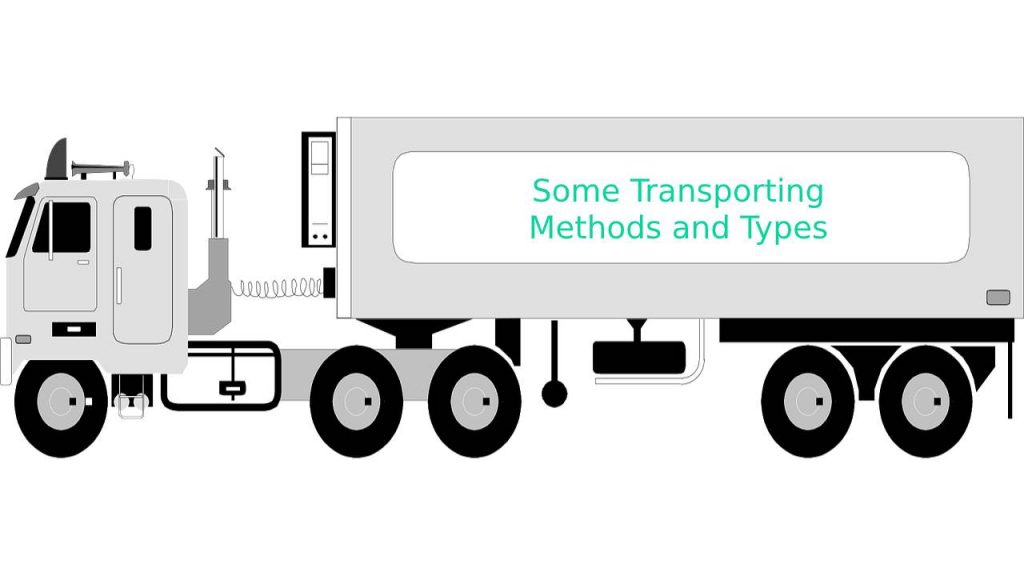 Cube Trucks
A cube truck carries the load on one chassis. The motor and cab share the same chassis as the load. A cube truck is also referred to as a cube van, box van, box truck, or straight truck.
Cube trucks are good for hauling:
Furniture
Other small and large home goods
In the city, frequently transporting goods on small roads
Standard Flatbed Trailers
Flatbeds are versatile. They feature no sides and are fully open which makes for easy loading of large, non-standard shaped products.
The flatbed shipping method works well for:
Items that aren't easily damaged by the weather or road debris
Large products that won't fit in a standard semi
Step Deck or Drop Deck Trailers
Step decks, step decks, drop decks, and drop decks are references to the same style of trailer. They can be considered modified flatbeds because the deck area drops down to accommodate taller freight.
Use step decks trailers for hauling:
Items that aren't affected by road fragments or the weather
Tall machinery
Other taller than average freight
Dry Van Semi Trailers
Dry van semi-trailers offer clean product delivery every time. This is because dry vans are designed to protect items from moisture and safeguard product quality. Dry vans are enclosed which means the door is on the rear and all sides of the van are sealed tight to keep air, moisture, and road debris out. Another benefit of using a dry van is that it can feature a step deck to function as one in a step-deck trailer. With a dry van, you can get two types of transportation features in one hauling vehicle.
New or used dry van semi trailers are excellent for transporting:
Flowers
Food
Pharmaceuticals
Any other items that must be preserved to stay fresher longer
As explained by the experts at Hale Trailer, "Dry vans are fully enclosed and sealed to protect cargo." A dry van may be a good option to transport items safely.
Stretch Removable Gooseneck Trailer (RGN)
The standard RGN may not support the load's weight or length. That's where stretch trailers come in. This type of trailer has a long center that supports heavy, long loads. Three or more axles may be required depending on how weighty the load.
Use Stretch RGN's for:
Heavy equipment
Items that can withstand elements in the weather
Long and heavier than average loads
Lowboy Flatbed Trailers
Consider this transporting product option if your freight is very tall. The center of the flatbed sits low nearer to the ground to accommodate the extra height.
Also, realize that the weight of your load makes a difference. You may need to have the trailer modified with more axles to support the weight, a permit, or both. State weight limitation policies usually apply.
Lowboy flatbed trailers are suitable for:
Extra tall cargo
Freight yard loading to and from loading docks
Conestoga Trailers
A Conestoga trailer is a covered trailer with a mechanical, accordion-like tarp covering system. The tarp protects the cargo during transport. The front and trailer's back door are enclosed. The tarp can be removed to expose the sides and the trailer's top. This feature offers drivers the flexibility of removing cargo from either side.
Use a Conestoga trailer for:
Easy loading and unloading heavy cargo from the sides
Protecting cargo from weather elements
Reefers or Refrigerated Trailers
Refrigerated trailers are commonly called reefers. This type of specialized trailer is temperature-controlled to keep products cold. Reefers are more expensive to operate due to the extra fuel cost in maintaining refrigeration during transporting products.
Refrigerated trailers work well for:
Dairy products
Fresh meats
Products that must be frozen or continually chilled
Dry vans, flatbeds, and other road transportation delivery options are available to get your products where they need to be. The best option for your business is the one that ensures your type of product will arrive in perfect condition.