Your business deserves good exposure. You can reach your target into a variety of marketing methods, but having outdoor signage rentals can offer you more. As a flexible way to reach audiences—outdoor signage rentals can be one of the most effective means to market your business effectively and efficiently.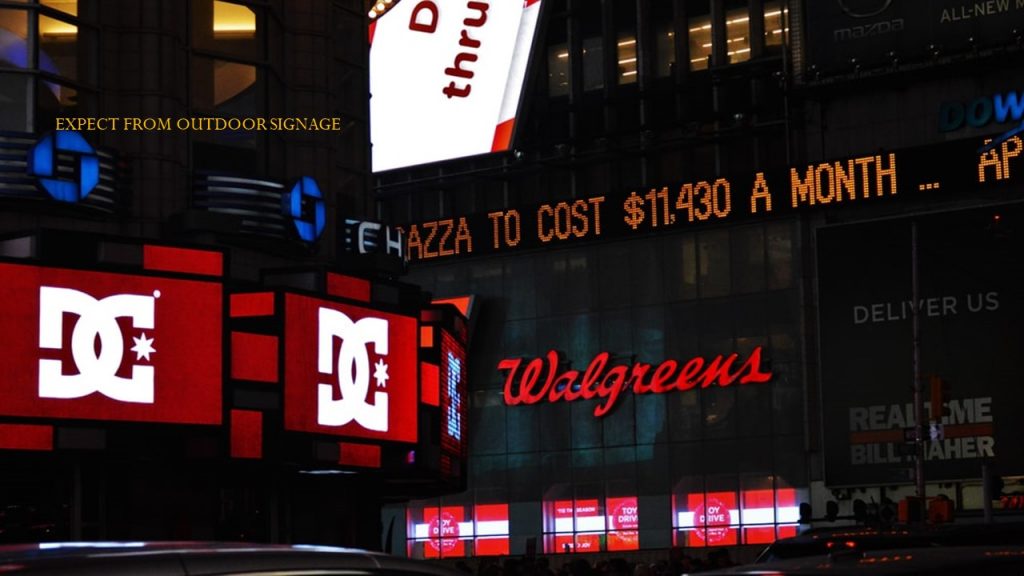 These signage rentals can be an excellent short term investment for your advertisement and reach more audiences than what large billboards can do. Choosing a very strategic location where to put these signage rentals gives you the control that you need so that you can maximize the use of these signages on your own time and budget. Electronic and digital signs are huge hits in big industries and even on small ones. They are found to be cost-effective but can still allow you to market the quality of your product to any potential customers around you.
Using these signs is like creating your profile in your target market. Considering its cost-effective structure to promote your business, Digital signs can cost about 85 cents per impression. That is cost-efficient compared to 12 dollars for radio advertisements and 21 dollars for television exposure. Using these signages like Signarama reduces cost but creates a bigger impression on your target audience—the ultimate goal of your marketing strategy.
Here are the
Benefits of outdoor digital signage's
to convince you in getting one for your business:
EXPOSURE.
Good signage implies a message to the right people at the right time. Having these signages in front of your store, across the park, and even on bus stops increases your business exposure. These digital displays seem to be inviting to people who pass by with the right amount of color, motion, and contrast added to it. A short relatable story might be a good advertisement too using these signages. Further, such exposure can't be made possible to big electronic billboards than can only cover a vast area but with a huge cost that can hurt your pocket. It is a must that you choose the most cost-effective way to market your business without hurting your finances as well.
CUSTOMIZABILITY.
Having outdoor signage rental as a promotion comes with customizing features that will surely match your preference and the message you want to send to your target audience. You can include your brand logo, use colors, and appropriate graphics to suit your preference and may attract more people to check out your business. Its customizability also allows you to incorporate technological or digital enhancements that are a must in the marketing industry. Moreover, renting these signages would allow you to experiment on which digital enhancements would work best to represent your business objectives through lighting, virtual reality, RFID applications, touch screen pads, and video walls.
Just like how shows usually do posters and signage's that will reflect what the show is all about, your outdoor signage must be a true reflection of what to expect from your business.
CONTROL.
Radio stations will only keep your advertisements playing monotonously time after time, TV ads can do the same thing. However, outdoor signage can be controlled according to what content you wanted your audience to see. With its customized feature, you can control what to post and when to post them—creating a more significant impact on your audience for the possible element of surprise it could give to them. Moreso, you can create multiple levels of advertisement for different products and services while considering the location where to put your signages best.  This ability to control your signages by setting intervals and showing different content is one of the best things you can expect from renting these.
Comparing it to the usual outdoor signs most businesses use, renting outdoor signage will eliminate possible extra cost if you have to install your billboards and signages. Furthermore, billboards, as one of the top tier outdoor signs, can be costly and may come out to date. Renting digital outdoor signs eliminates the possibility of your business having outdated means of promoting itself. When there are new technologies that the marketing field can offer, particularly on this type of promotion, renting them would be an excellent decision because the interface is more innovative and consumer-friendly.
Renting outdoor signages can be a better way to assure that you can market your business with dynamic content to share and, at the same time, with a cost-effective approach to reach more audiences. You no longer have to worry about purchasing and installing a lot of these signages on your own. This time, you can choose to rent one and get yourself more busy with the type of content you can create that can invite and attract more people to your circle.