Marketing Professionals – It's no late yet to wake up and look around yourself. You can view the sight of different gadgets available all around you. As the standards of living uplifted, our way of living also evolved. We have moved towards the machines and services that have put our lives at ease. We can select one from many to satisfy our needs. But how would we know what to choose? We look at the advertisements airing or the humongous billboards that come in our path. There are social platforms that can make us aware of what's trending now.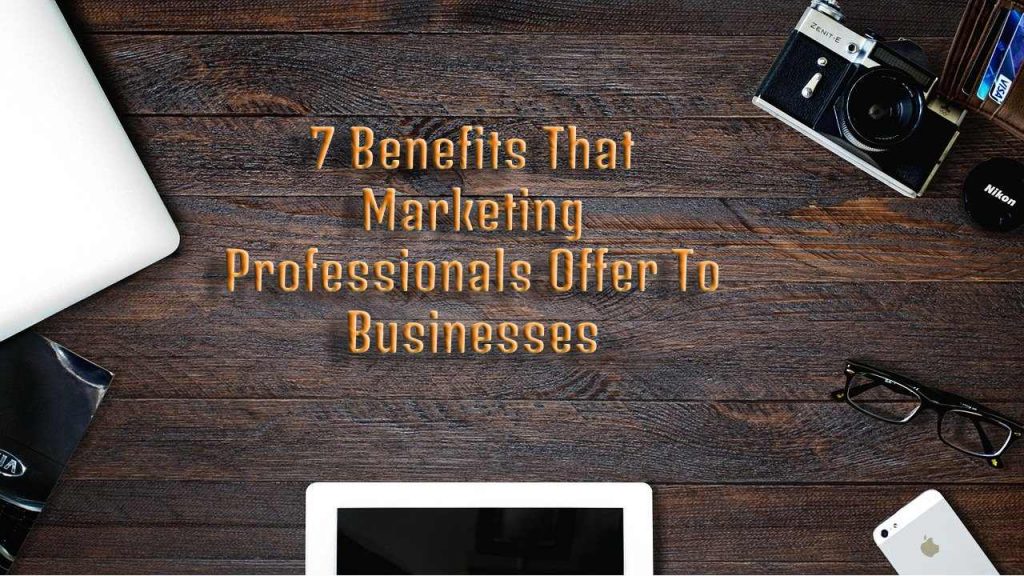 Marketing is the primary constituent to make a business or product flourish. To allure the customer into buying your product is real success. The more the products get sold, the more the profits you make. Other than the fact that marketing builds brand awareness, it also hikes sales, improves businesses, and engages the customers. It is one of the crucial pillars to withstand the competition. Good marketing can do wonders. It can add ultimate sparkles to your business to make it shine the brightest.
As marketing is one of the most demanding entities in business empires, there is a complete chain of education. Students from the high school can opt for the marketing field to have a successful career. You can achieve a thriving career in marketing if you have enough motivation to progress.
A career in marketing developed along with appropriate education would add the blazing sparks in your career where there will be countless opportunities for success. A marketing professional can uplift a business or drown it deep into a disaster. A qualified marketing professional provides immense energy and benefits to an organization. Here, let's discuss some of the inevitable benefits that marketing professionals offer to businesses.
7 Benefits That Marketing Professionals Offer To Businesses
All the businesses around the world wish to earn money, a lot of money. It is only possible if the sales or services provided by the company increase. That's where the marketing professionals come in. If you have a high-quality product but no one to purchase it, what good will it do to you? Marketing professionals with their teams bring up the strategies to promote the product or service to engage more and more people and put their strengths to transmute them into customers.
Have you ever seen people who are brand conscious? It seems like it's oxygen to them. If you are wearing a good brand or have a gadget that is of a famous brand, people will get overwhelmed. How is it done? The marketing team of that brand put their sweat in it. They explain the features in such a fantastic manner that people start to love it. With time, it becomes a trend, and with more sales, the quality also increases. Once your brand name flourishes in the market, sip some coffee and see how it will make you fly over the horizon.
A qualified marketing professional knows where to and where not to spend money. He knows where the investment will bloom and where it will gloom. Before the launching of a product, marketing professionals stir their brains out to come up with brand marketing strategies and plans to make it a hit. There are a lot of marketing platforms and tactics that foster sales, but to go for the perfect one related to the product and audience is a benefit that only a marketing professional could offer.
Who doesn't want an element of surprise? We long for it. Customers usually get bored by seeing the regular marketing tactics that every firm is doing. They want something new to strike them and pull them towards it. Innovation could bring new customers. Marketing professionals excel in the art of creating new and appealing ideas. They do a tad changings to produce more significant results. They promote continuous improvements and encourage their teams to be more creative. It induces productivity in the organization and astonishing results after all.
We live in a world that has become a global village. What you are doing, there are a lot of other people carrying out the same things. The competition has become very tight. The one who stands out differently gets to sit on the throne. Marketing is the factor that decides who gets the throne. The marketing professionals keep the records and track the trends. They take steps to meet up the demands of customers and align with the operations department to achieve success.
ENGAGE CUSTOMERS EFFECTIVELY
There are customers of diverse backgrounds. They have different desires and wants. To keep them all together to stick to your product or service is a hectic task. But marketing professionals are born for it. They have this commendable magic in their words and plans that engulf all of their customers. Marketing is a tool that keeps the conversation going. Even if your product is an old one, they can create fresh content for it to keep customers in contact.
Marketing professionals play a vital role in the sustainment of a company. Without them, the company will fall. It will shred into tiny bits without any alarms. They keep the company alive by bringing more and more customers. Marketing is not a one-time fix; it continues every day and is an ongoing strategy that helps businesses flourish.
CONCLUSION
Marketing is vital for any business. It is the business itself. Without it, no part of a company can flourish. Sound marketing strategies could blossom into a massive success for you, and for that, you need a good marketing professional. The worth of marketing professionals is increasing as the competition is getting tight day by day. If you want to have a career with lots of bounties in it, go for marketing.