Being an entrepreneur requires more than an innovative business idea. In a competitive industry where you have to strive to survive, consider putting in place sufficient capital.
A significant drawback to business success is insufficient funding. You may have enough to launch a business but lack enough capital to see it through the development phases.
If you lack the cash to do your startup independently, consider your business idea out there for external funding.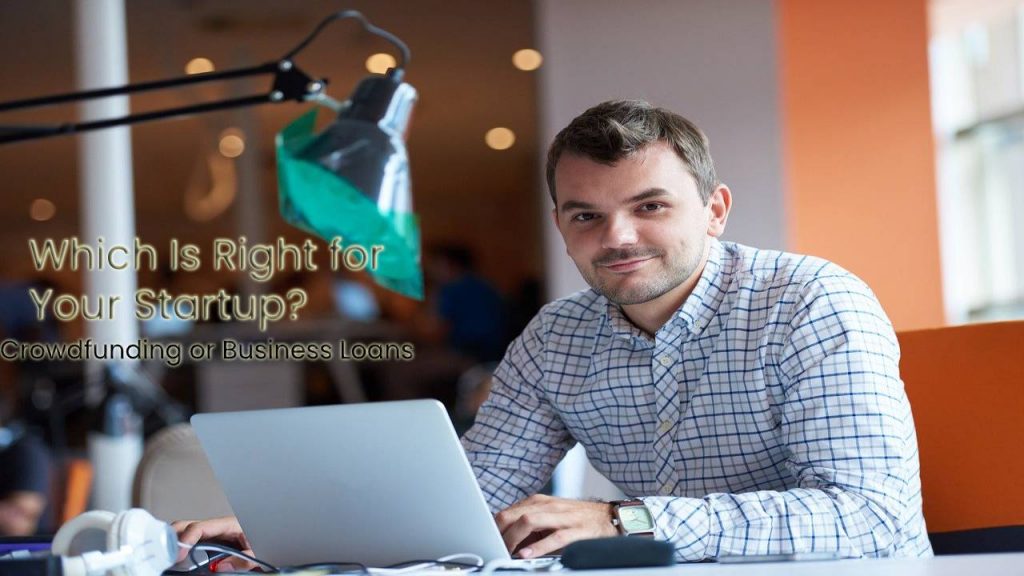 There are various strategies you could use to acquire cash for your company. Non conventional methods of financing business startups or growing Crowdfunding or Business Loans: Which Is Right for Your Startup?
businesses keep popping.
Crowdfunding and business loans are among the many strategies you could use to get your hands-on business funds. If you are confused about the better funding option between crowdfunding and business loans, read on to find out.
What Is Crowdfunding?
A viable startup idea attracts multiple individuals or investors who are willing to fund it. What you need to focus on is a working strategy that makes your business profile as popular as possible.
Conventional crowdfunding involved spending months or weeks getting your friends and family to excite your startup idea for successful funding. Today starting up a crowdfunding campaign is easy. There are numerous crowdfunding websites where you set up your business profile describing your startup plan.
Interested donors or investors reach out to help with funding your startup for a future reward, like profit or equity shares in your company. Different crowdfunding websites have terms and conditions you have to observe. There may be a standing fee when raising funds on a crowdfunding website. Other websites take a small percentage of the funds you raise via their site.
Pros of Crowdfunding
Online platforms make fundraising faster as long as your idea is viable and promising. An idea that appeals to viewers will get your capital needs settled. There is no application process; all you need to do is publicize your startup plan and wait for willing donors.
As you work to generate a buzz around your project idea, you gain a potential market for your products with time.
When you choose to crowdfund your financing source, you lower your chances of being burdened with interest and principal repayments. However, you are required to fulfill the promises you made to your donors and campaigners.
Setbacks of Crowdfunding
You may have to come up with a unique business idea to get donors on your case. Additionally, tons of time has to be spent running a campaign that offers zero certainties of attaining the business goal. The truth is, no funds may be received even after the best campaign.
If you acquire equity crowd funders, you might have to give a share of your company in exchange for funds. Yet you may lack the experience to handle and experienced investors who may exploit your desperation for funding.
For people who love privacy, crowdfunding may prove to be a wrong idea since you make your business plans public. Moreover, you will be caught in explaining your decision to third party situations on several occasions.
What Is A Business Loan?
A startup business comes with various financial needs. You already started your business, and you have managed to keep it running for a year. You have seen how profitable the startup has been, and you feel the need to expand it.
Getting a business loan is a perfect option for your company when you need fast funding. There are several types of business loans available, depending on what your business needs.
Whether you want to start a business, buy equipment, or need constant cash flow. Lenders require that you provide a sensible outline of how you plan to use the money.
If you choose a business loan as your alternative finance source, you get a debt that you are expected to pay eventually. It comes with terms and conditions like a specified payment period and interest rates. At times you may be required to provide collateral in case your business is unable to pay the loan.
Before you apply for a loan, carry out detailed research on your lender.
Pros of Business Loans
Business loans might be the most accessible form of accessing business finance. They take a short time to mature, and you do not have to explain your decisions to third parties. If you don't have time to wait for funding, or for profits to grow, so you reinvest, approach a bank or a money vendor to get your issue sorted in privacy.
Most business loans come with good interest rates since banks have to compete for clients. So, you get a chance to enjoy profits as you pay the loan. Loans from banks come with no strings attached apart from payment terms.
Disadvantages of Business Loans
The fact that loans are mostly available for already existing businesses may be a significant setback. If you do not meet the laid criteria, your business may not qualify for a loan.
Providing an asset to act as collateral may put you off from applying for a business loan, especially when success is not guaranteed. You could lose your business and the security asset at the same time. Additionally, depending on your qualifications, you may not be granted the entire amount you requested.
Which Is Right For You?
Business loans are considered great solutions for a business that is in a position to pay and not strain. Most business startup owners indeed prefer the convenience of getting a business loan over the tedious crowdfunding procedures.
However, certain businesses excel well under crowdfunding, especially those million-dollar projects that can only do well with significant capital investments. But it is risky since you are not assured of attracting donors.
Business loans come with the promise of a relative amount of funding which can help push your business to the next level. As long as you make a plan to pay the loan as quickly as the returns start coming in, your business is safe.
Conclusion
Compared to business loans, crowdfunding is a risky business finance strategy that should be considered when there are no other options involved.